Amazon's first-gen Echo is still around, priced at a lower than ever $50 at AT&T
1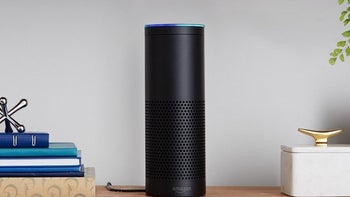 Smart speakers have become a global phenomenon less than five years after the limited release of Amazon's original Echo, with an estimated installed base of
66 million units in the US alone
as of December 2018, and around
100 million devices in use worldwide
, according to a slightly older market report. Naturally, there are now more options than ever for smart speaker buyers, ranging from the ultra-affordable
Echo Dot
and
Google Home Mini
to premium
Echo Show models
with screens.
But if you can find it, the first-generation Amazon Echo is still a pretty great choice, fetching a significantly lower price than back in the day. We've seen this tall and handsome cylinder cost
as little as $30 in refurbished condition
with a 90-day warranty included last month, and although the newest deal may not look quite as irresistible at first glance, it's actually better in a way.
That's because AT&T appears to sell brand-new Echo units at $50 apiece right now (online only), no doubt throwing in a standard one-year manufacturer warranty. That's a whopping $129 off the smart speaker's original list price, as well as $50 less than what the second-gen Echo usually fetches. It's also pretty much on par with the typical price of a third-gen Echo Dot, which obviously packs significantly less power in a diminutive body.
Despite its advanced age, the OG "regular" Amazon Echo is largely capable of the same things as all the new Alexa-controlled smart speakers, including hands-free music streaming, smart home management (with compatible accessories), setting alarms, timers, and reminders, reading the news, answering the most diverse and complex questions, and even making voice calls, as well as sending and receiving messages. There are also loads of new Alexa skills added every day, all of which are supported on the full range of Echo devices.