There will soon be 100 million smart speakers in use globally, with Amazon unbeaten at the top
1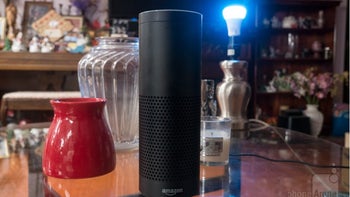 Like pretty much all newfangled consumer tech devices, smart speakers started off as gimmicks. But a staggering number of people around the world understood the convenience of these largely voice-controlled products, quickly embracing
Amazon's extensive Echo family
, followed by the
Google Home lineup
.

Perhaps most importantly, the global installed base continues to grow at a remarkable pace as well, suggesting more and more people are buying Echos, Google Homes, HomePods and so on for the first time.

Overall, this rapidly expanding industry is on track to cross the 100 million in-use device barrier this month, a figure that's expected to exceed 125 million units as early as the end of the year.

If the 100 million forecast proves accurate, which is almost guaranteed, smart speakers are looking at reaching this key milestone "faster than pretty much any other consumer technology device to have launched over the past decade."

Basically, that means these bad boys are officially the biggest thing since smartphones, so naturally, their "gimmick status" has been "well and truly dropped."


Unsurprisingly, Amazon remains a "permanent fixture" in the largest number of worldwide homes, leading Q3 2018 shipments with 7.2 million units and a 31.6 percent market share. The former number represents a 45 percent year-on-year increase, while the latter has declined significantly under mounting pressure from rivals Google, Alibaba, Baidu, Xiaomi, and Apple.
That's right, Apple has slipped from fourth to sixth place in the vendor chart
since Q2
, despite boosting HomePod sales from 0.7 to 1.1 million units. Google remains a major proverbial thorn in Amazon's side, with 5.2 million shipments and a 22.7 percent slice of the pie, compared to 3.2 million and 27.6 percentage points in the April - June 2018 timeframe.

Meanwhile, Alibaba, Baidu, and Xiaomi helped China "rapidly emerge" as the second largest market for smart speakers after the US, with regional shipments forecasted to post a mind-blowing twelve-fold annual increase for 2018. That's... just crazy.