Watching the iPhone 7 get pancaked by hydraulic press is incredibly gratifying
29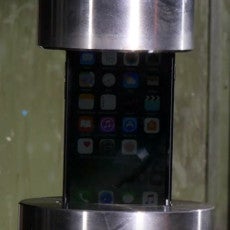 We love our gadgets here at PhoneArena but even so, it's always a treat to see the numerous ways in which they can be destroyed. Though dropping, bending, scratching and burning are all pretty fun, there's surely nothing more gratifying than seeing a pristine slab of craftsmanship and innovation reduced to a useless, indeterminate pile of rubble. Having seen the beautiful
Galaxy S7 edge
burn and bleed to
a painful death by means of hydraulic press
, a unit of Apple's new
iPhone 7
has just been treated to a similar demise.
Where the aforementioned S7 edge destruction saw the device laid flat, this particular instance deals with the device from a standing stance. Of course, the hydraulic press makes pretty light work of the new iPhone and its metallic housing, which has been toughened by Apple post-
Bendgate
.
Maybe it's just us, but we definitely take a perverse pleasure in watching the mobile industry's darlings folded into nothingness. The iPhone 7 may be an expensive and highly sought after handset, but in a world ruled by the hydraulic press, it's a mere peasant.
Provided by the folks at the
Hydraulic Press Channel
on YouTube, we're sure this is the most satisfying thing you'll see online all weekend. Then again, this largely depends on
the kinds of sites you like to frequent
.