Wake up your inner weldor and drive with only the Sony Ericsson Xperia arc as your eyes on the road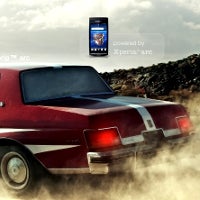 If you are a sucker for American classic cars and dusty road, as we are, you'll love the next brilliant commercial coming out of the Sony Ericsson camp. If you appreciate razor thin phones with boutique designs, and one of the best camera sensors out there, you'll love the
Sony Ericsson Xperia arc
.
Now how about having all this love combined in one fantastic, creative commercial? As part of the Challenge Xperia initiative Sony Ericsson released a piece of marketing genius, in order to showcase the fast image processing abilities of the new
8MP Exmor R
camera sensor, and the qualities of the Mobile Bravia display, as found in the
Xperia arc and Xperia neo
phones. Bear in mind we might see this sensor
in the next iPhone
as well.
The message is simple, but powerful - the crew welded sheet metal on the windshield and windows of an old ride, and attached three Sony Ericsson Xperia arcs in the holes they cut, so as the 4.2" displays were the only connection between the driver and the road, including one being used as a side mirror.
Not to mention the windows were first smashed with a hammer. If the whole thing sounds awesome, that's because it is. Press play and watch the next piece of brilliant ad from the company that
stitches creepy opposing thumbs
to little green robots.
source:
SonyEricsson