Apple switching to Sony camera sensor and optics for the next iPhone
18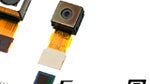 The move from 5MP to 8MP Sony camera sensors for the 2011 iPhone was actually in the rumor mill
since last Spring
, before even the 5MP shooter in the iPhone 4 was announced.
Apple's traditional sensor supplier OmniVision shares took a dive last summer, when a
rumor spread
that Apple might be moving to Sony for its next generation iPhone camera sensors. The same thing with OmniVision's stock happened yesterday, giving even more merit to that claim. The backlit imaging sensor that OmniVision supplies for the iPhone 4 is shooting very good HD video, but as far as still shots are concerned, there have been a lot of complaints about
yellowish tint
indoors, and wrong color balance outside, something that no backlighting can remedy. From that point of view, the rumor is certainly believable, considering that Apple only wants the best for its gadgets.
Apple might have been eying Sony's new
Exmor R
camera sensors, as found in the Sony Ericsson Xperia arc (you can read our preview and check some camera samples
here
), and the recently announced
Xperia neo
. The 8MP camera sensor there is backlit, which helps it cope with low light situations, similar to what the current 5MP OmniVision sensor in the iPhone 4 does. Watch a video demo of what backlighting does with the Exmor R sensor a Sony Ericsson rep gave us at the MWC Expo last week after the source link.
Sony also has a
16MP
Exmor R sensor, which already found itself in a phone
at the FCC
, but it is not a smartphone, rather a member of the CyberShot family - S006 to be precise. With the advent of the dual-core Tegra 2, TI OMAP4, and Snapdragon chipsets, there will be a hardware capability of supporting up to 18+ megapixels of resolution, maybe that is why Sony decided to jump ahead of the game, and offer a 16MP CMOS sensor. The size is 1/2.8", whereas the size of the 8MP Exmor R that might go into the next iPhone one is 1/3.2".
Both are far cry from the biggest sensor in a phone - the 1/1.8" 12MP camera in the
Nokia N8
, but Sony has created a
novel arrangement of the photo diodes
, tailored to the fine pixel structure, which should additionally bring high sensitivity, and less noise in low-light situations, or so Sony claims. The merits of Sony's Exmor R backlit sensors are exemplified in a fewcomparison shots below, showing the detailed and bright picturesthat the sensor can capture, compared to a regular 5MP phone camerasensor.
OmniVision actually recently announced an 8MP camera sensor of its own -
OV8820
- with the above mentioned low-light enhancements, HD video at 60fps, and Full HD at 30fps, which should have been ready for mass production in March, but production problems have occurred, meaning it might not be ready soon enough for going into the next iPhone in a few months, so we could see it in consequent batches, if at all.
Well, Sony Ericsson's cell phones have probably the best cameras in the industry, if we don't count the almighty Nokia N8, and that sensor doesn't really fit in a very slim phone, so we can't blame Apple for swapping OmniVision with the best. Now put a Xenon flash next to that 8MP sensor, too, Apple, and we will be completely sold.
Have a look also at our own sample HD video with the 8MP Exmor R camera sensor to gauge what video capture with the next iPhone might look like.
source:
EETimes
&
Electronista