Two thumbs up as Sony Ericsson gives us more information on the Android robot's human thumb donor
8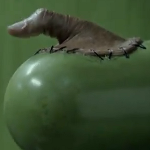 Remember that Sony Ericsson ad for the Xperia PLAY that showed our favorite green Android receiving two human thumbs in a very strange and disturbing operation? How did someone end up donating 2 digits to the Android? He apparently met a girl and took her to his place and was knocked out. When he came to, all of his personal property was intact-except for his two thumbs and you know where they ended up.
This is beginning to get a little creepy and we wonder if the Android will end up on Cops with his hands cuffed, sitting in the back of a patrol car. On the other hand, it looks like this has all gone down in foreign soil and as far as we know, Androids cannot be extradited to the United States to stand trial for thumbnapping.
Anyway, we get the point. Thanks to the unique sliding game controller on the Sony Ericsson Xperia PLAY, Android users will need to use their thumbs to play games on the device. Even though the ads have not really given us a look at what the handset can do, is anyone hooked on the Xperia PLAY yet? You can leave us a answer in the comment box below.
source:
YouTube
via
androinica