Sony creates a 16MP cell phone camera sensor
5

Sony's CyberShot line were the handsets that started all that "cameraphone" business, and the company has been installing great cameras with Xenon flash in a lot of their phones ever since. The biggest camera sensors in smartphones are 12MP, as in the
Nokia N8
, or 14MP, as in the yet unreleased
Altek Leo
.
With the
advent of dual-core
Snapdragon, TI OMAP4, and Tegra 2 chipsets, there will be a hardware capability of supporting up to 18+ megapixels of resolution, and full HD 1080p video at 30fps. That is why Sony decided to jump ahead of the game, and offer a 16MP CMOS sensor. The size is 1/2.8", and the Exmor R sensor is back-illuminated, like the one in
iPhone 4
. This feature, combined with a novel arrangement of the photo diodes, tailored to the fine pixel structure, should bring high sensitivity, and less noise in low-light situations, or so Sony claims. The merits of Sony's Exmor R backlit sensors are exemplified in a few comparison shots below, showing the detailed and bright pictures that the sensor can capture, compared to a regular 5MP phone camera sensor.
The sensor supports full HD video capture at 30fps, and 720p HD video at 60fps, which, in the new dual-core Cortex-A9 based phones will lead for some smooth video with incredibly high resolution for a cell phone. Those microSD card prices better fall down fast, or we will have to carry them instead of film rolls now. If manufacturers wish, they can also buy from Sony the whole set - 16MP sensor with the camera optics, for the hefty price of $145, but this will go down pretty fast.
Sony is also outing an 8MP sensor with 1/3.2" size, which can also be coupled with Sony-made optics. There are rumors that Apple is ditching OmniVision cameras for its next iPhone, and going with an
8MP sensor made by Sony
, so we are wondering if that's the one Cupertino was waiting on.
Have a look at what the 16MP and 8MP sensors look like below. Just for comparison's sake, the Nokia N8 will still have the biggest sensor in a cameraphone, at 1/1.83" size. Thus, when phones with 16MP cameras come out, they will inevitably be compared to it, for all of us who want to know if bigger resolution actually matters for better photos and video.
Nokia N8 Specifications
|
Hands-on
source:
Sony
via
Engadget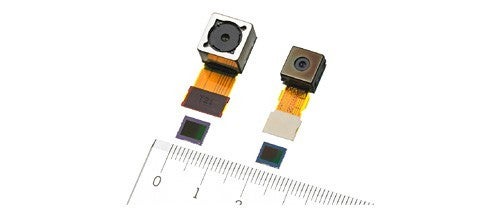 Sony's 16MP/8MP Exmor R cell phone camera sensors