Valentine's Day Gift Guide 2011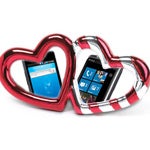 "Communication is the key to understanding"
, one ex told us, and what comes to mind first when you hear the word communication these days, is your cell phone. Smartphones and gadgets are not geek-only anymore, to the extent that even your non-tech sweetheart is often spilling out words like "app", "Android" or "tablet", trying to nudge you in the right direction. If you are scratching your head what to give your guy for Valentine's Day, these days the latest smartphone is a no-brainer.
The funny part is that cell phones are becoming your most personal possession so fast, that girls wouldn't consider a smartphone unromantic anymore. On the contrary, one of these gadgets, or a desired accessory for it is on the top of the wishlist for Valentine's Day, so let's have a look at what the mobile world has to offer for your sweetheart this year.