Samsung Wave S8500 Review
72

Introduction:
Samsung Wave S8500
- is finally here. A few months ago we reviewed a prototype unit, which left us with rather high expectations for the final product. Now that it's here, we are ready to see what Samsung's latest and greatest creation has to offer. Being a full-featured mobile platform however, bada will inevitably face some pretty strong competition in the form of BlackBerry, webOS, Android and iPhone OS. Or will it? According to Samsung, bada is the easy to use type of OS, which will combine the greatness of having rich 3rd-party apps with a user-friendly interface that would appeal to every average Joe out there. So bada is not that much of an opponent to BlackBerry and Windows Phone, than it is to the iPhone, webOS and Android. Congrats, Samsung, you just painted some really tough future for yourself.
The manufacturer's vision is well-represented by its slogan "smartphone for everyone". Well, a bada smartphone for everyone is no doubt what every Samsung executive envisions, but as of now this is surely more of a dream than it is a reality. The question is if, eventually, some day, the bada-based smartphones would really become a part of the general customer's life, similarly to the iPhone now.
Design:
In terms of design, the Samsung Wave S8500 is a great achievement of technology (and of Samsung's design team). It is definitely a good looker, sports a pretty solid metal chassis and is really thin at just 0.43 inches (10.9mm). The in-hand feel of the smartphone is top-notch, thanks to the high-quality materials used and its significant weight.
The Samsung Wave looks similar to the
Nexus One
and has almost the same dimensions, but there's one important difference - the
capacitive screen measures 3.3 inches
, while the Nexus One has a 3.7-inch one. Except for that one issue, we are perfectly happy with the Wave's display. Like every AMOLED, it delivers great contrast, blacks are really pitch black, and colors are incredibly vivid. However, Samsung has utilized a new "Super AMOLED" technology, which is said to provide even better image quality and less reflection. The manufacturer has achieved this by removing the panel for the touch sensor and the air gap between the AMOLED and the touch sensor. This should also allow for better visibility under bright sunlight, which is something not very common for AMOLEDs. We compared the Wave's screen with the one of the
iPhone 3G
and it was better in almost every respect. When indoors, the Super AMOLED provides a lot more clarity and saturation, while its viewing angle is incomparably wider. The Wave is indeed quite usable when outdoors, but still the iPhone 3G demonstrated its supremacy here.
The resolution is 480x800 pixels - very good for this screen size, although things do not appear crystal clear.. For example, texts have an obvious pixelization to them, and you might also experience some not very accurate color representation.
Samsung has covered the display with tempered glass, which is really firm, and has even applied an oleophobic (from the Greek "oleo" – oil) coating so it doesn't get the annoying fingerprint smudges. The end result is near perfect.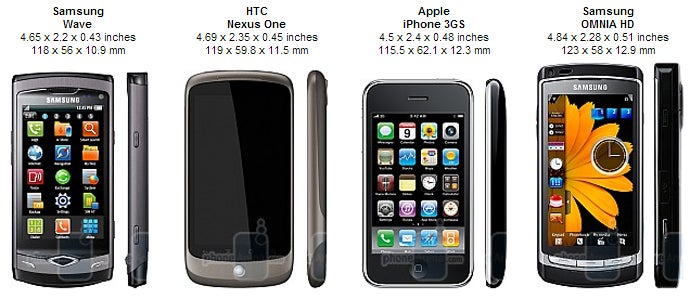 You can compare the Samsung Wave S8500 with many other phones using our
Size Visualization Tool
.
Below the screen we get nicely designed send and end
keys
, as well as a menu key, which is also used to bring up the multitasking menu. On the left side is simply the volume rocker, on the right are the lock key and camera shutter, and on the top you'll find the loudspeaker, 3.5mm jack and microUSB port. On the back are the 5MP camera with 720p video recording capabilities and LED flash. We didn't really like the batter door, which is again made of metal, but uses a different shade of the color, making it look less uniform. Once you remove that, you get access to the 1500mAh battery. Once you remove that... you can then use the SIM and microSD card slots.
On the whole, the build quality of the Samsung Wave S8500 is great. It is obvious that Samsung wanted to come up with a killer handset for the introduction of bada, and we've got to admit they have achieved very good results here in the design department. It is clear however that what's more interesting on this particular handset is its software - the bada OS and its web browsing capabilities, its application marketplace and multimedia features. So, let's check it out!
Samsung Wave S8500 360 Degrees View: