Casio G'zOne Ravine Review
13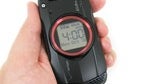 Introduction:
Type-V
and
Type-S
to the
Boulder
,
Rock
, and
Brigade
, which was introduced earlier this year. But unlike the Brigade that includes a full QWERTY keyboard, the new
Casio G'zOne Ravine C751
is a traditional flip-phone in appearance that replaces the Casio Rock, though most of the features are retained, such as the good PTT quality and
rugged Military design
.
Included in the retail package is the Casio G'zOne Ravine C751 phone, 1140mAh battery, wall charger with detachable microUSB cable, and user guides. Unfortunately, the desktop charging cradle is no longer included, but it can be purchased separately. We did try the one from the Rock, and it will not work with the Ravine.
Design:
The Ravine keeps the Casio G'zOne look and feel throughout the device, with a 1.35" LCD display on the front that stays on continuously for easy viewing of the date, time, signal and battery levels, though we're not fond of the burnt-orange colored ring that encompasses it. Like its predecessors, the Ravine is built to MIL-STD-810G for being resistant to conditions of water, shock, dust, immersion, vibration, salt fog, humidity, solar radiation, altitude, and low and high temperatures. It's constructed out of hardened plastics and rubber, which gives a very durable and rugged feel to the device. All of the ports and openings also contain orange O-rings that help keep water out. Overall, the Ravine is a bit larger than the Rock and feels more bulky, though not as big as the Brigade, but is still suited for large hands. Along the sides are the volume rocker, voice command key, orange PTT key, 2.5mm headset jack, and microUSB port.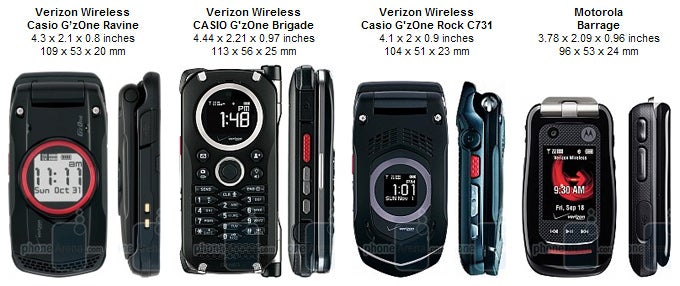 You can compare the Casio G'zOne Ravine with many other phones using our
Size Visualization Tool
.
On
the back
is the 3.2MP camera and LED flash, and the microSDHC memory card slot is hidden under the battery.
Unlike the Casio Rock that has a push-button on the hinge that releases and
flips open
the phone, the Ravine instead has to be opened manually. On the inside is a 2.2" TFT display with 240x320 resolution that supports up to 65K colors. In addition to being slightly larger than the
2.1
" display used by the Rock, the images on the Ravine's screen also look better with more saturated and realistic colors. On the bottom is the standard d-pad for accessing the menus and the white backlit keypad. The numeric keys are somewhat hexagon in shape, but are smaller than the keys on the Rock, and are laid-out in an offset grid pattern, which makes it difficult to dial by touch alone, unless you are looking right at them. Because of this, we prefer the keypad on the Rock more as it is easier to use and the keys are larger.
Casio G'zOne Ravine 360 Degrees View: