HTC EVO Shift 4G Review
7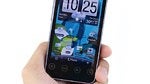 Introduction:
After given the prestigious title of being the "first" of many things, the
HTC EVO 4G
has clearly raised the bar on Sprint's lineup with its vast arsenal of features and top notch performance. Attempting to discretely differentiate itself from that, the
HTC EVO Shift 4G
trudges along in bearing its former's name, but it manages to shift the attention onto its physical landscape style keyboard. Although there are no certain standout "firsts" here with the EVO Shift 4G, it's yet another WiMAX enabled device for the carrier – but does it have what it takes to stand amongst the other two 4G titans, нamely the HTC EVO 4G and
Samsung Epic 4G
?
The package contains:
HTC EVO Shift 4G
microUSB cable
Wall Charger
2GB microSD card
Get Started Guide
Basics Guide
Terms & Conditions of Services
Design:
On the surface, there are plenty of design cues taken from the HTC EVO 4G – like its distinctive circular capacitive buttons. From head to toe, the similarities are all there as the EVO Shift 4G exudes an impeccable industrial design and quality construction that you'd expect from HTC's camp. Combining a metallic blue front plate and matching blue soft touch back cover, we actually prefer its choice of materials over the EVO 4G since it is less prone to scratching and smudging. Overall, it's definitely much easier to grasp since it packs a smaller display, while slipping away covertly when placed in the pockets. However, it's slightly thicker at 0.62", but this doesn't take away much from its compact nature. Sure it doesn't come off as being original, but we're still nonetheless happy by the HTC EVO Shift 4G's design.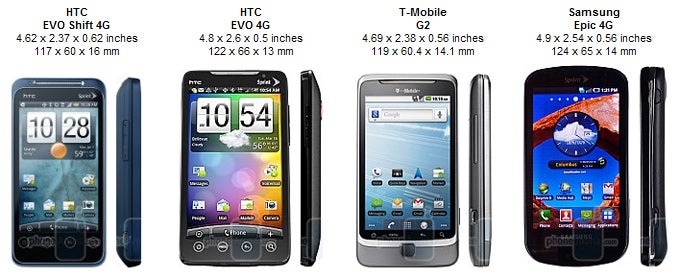 You can compare the HTC EVO Shift 4G with many other phones using our
Size Visualization Tool
.
In keeping the smartphone relatively normal sized, we find it flaunting a smaller
3.6" TFT display
which agrees well with its WVGA (480 x 800) resolution and support for 65k colors. Needless to say you'll find it offering higher pixel density, which makes for some crisp and detailed visuals all around, but its display becomes washed out looking when viewed at extreme angles. Conversely, some may be put off by its relatively low 65k color output, but in reality, it's actually not bad since it radiates some deep and strong color tones. And when its maximum brightness output is rather weak, it manages to be barely visible in direct sunlight. Luckily, we didn't have any issues in terms of responsiveness since it accurately registered every touch of ours.
As we mentioned previously, we find the HTC EVO Shift 4G using 4
capacitive buttons
– which are the home, menu, back, and search keys. Thankfully, there is some room between them and the bottom edge of the device to minimize any accidental presses.
On the
left edge
of the handset, we find its microUSB port and a thin looking volume rocker which surprisingly offers one solid tactile response when pressed. However, we're not too thrilled with its dedicated power button
on the top side
of the phone seeing that it's recessed, placed at an angle, and very difficult to make out with the finger. In addition, we find a 3.5mm headset jack placed next to it as well.
Instead of finding a spring loaded mechanism in place for exposing its
keyboard
, we're subjected to a manual process that ultimately locks the handset in place. For the most part, we're satisfied with the keyboard's usability since buttons are normal sized, evenly spaced from one another, and offer a subtle response when pressed. In fact, we didn't have any problems speed typing away, and we do find the inclusion of a directional pad to come in handy when trying to place the cursor in a correct position.
Flipping it over to its
back
, its 5-megapixel auto-focus camera with LED flash prominently stands out – with a chrome border around the camera. Furthermore, there is a notch that hides a mesh grill for the handset's main speaker. Finally, removing the back cover requires some excessive force, but once it's off, you'll have access to its battery and microSD card slot – the latter of which is inconveniently located beneath the battery.
HTC EVO Shift 4G 360-degree view: Recommended Stories