LG dLite Review
7

Introduction:
Just about everywhere you turn, the form factor of choice employed by the majority of handsets we see nowadays happen to be the slate form factor – especially more in the smartphone category where it's abundant. Then every once in a while we witness some kind of flip style handset crafted specially as an entry-level device, but on some rare occasions, we still see some that manages to push the envelope with their stylish looks. The
LG dLite
is yet another offering from the Korean manufacturer which will hopefully captivate customers with its extraordinary appeal that's not widely seen that often with flip phones.
The package contains:
LG dLite
microUSB cable
Wall charger
Hands-free Headset
Start Guide
Design:
When we first picked up this phone, we were somewhat surprised with its unnaturally large footprint as it feels rather too lengthy to hold comfortably in the hand. Constructed out of plastic, the bubble gum pink and white colors accent each other nicely, but will easily cause some heads to turn due to its striking colors. Despite feeling rather light weight (3.49 oz) thanks to the plastic build, we aren't too thrilled about its construction as the hinge used to open the handset felt loose and without much spring to it. However, the acrylic piece found near the earpiece is a nice touch as it illuminates in various color tones to provide a subtle ambiance feel to the handset. By far the biggest thing going for the dLite is its stylish looks which is something in a rarity itself when you take into consideration the lack of variety in this specific form factor.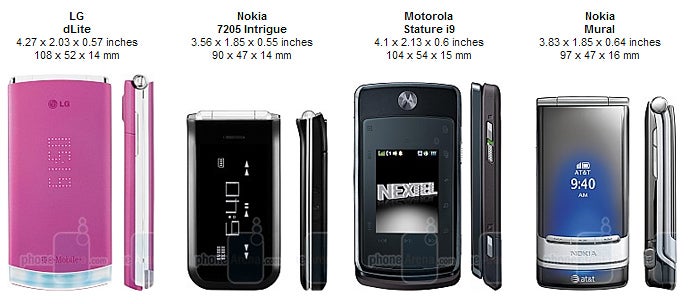 You can compare the LG dLite with many other phones using our
Size Visualization Tool
.
Hiding underneath the pink surface of the outside portion of the dLite is a
customizable LED matrix
which generally displays the time while also playing some nifty looking animations for various notifications. It definitely adds to its appeal while working in conjunction with the
edge-lit LED surface
for some mesmerizing color shows. However, it lacks any external buttons, like music controls, which can come in handy for certain functions. Opening the handset, you're treated to a wide-screen format
2.8" display
which has a resolution of 240 x 400 pixels with support for 262k colors – which happens to look exquisitely sharp with its pastel like color scheme.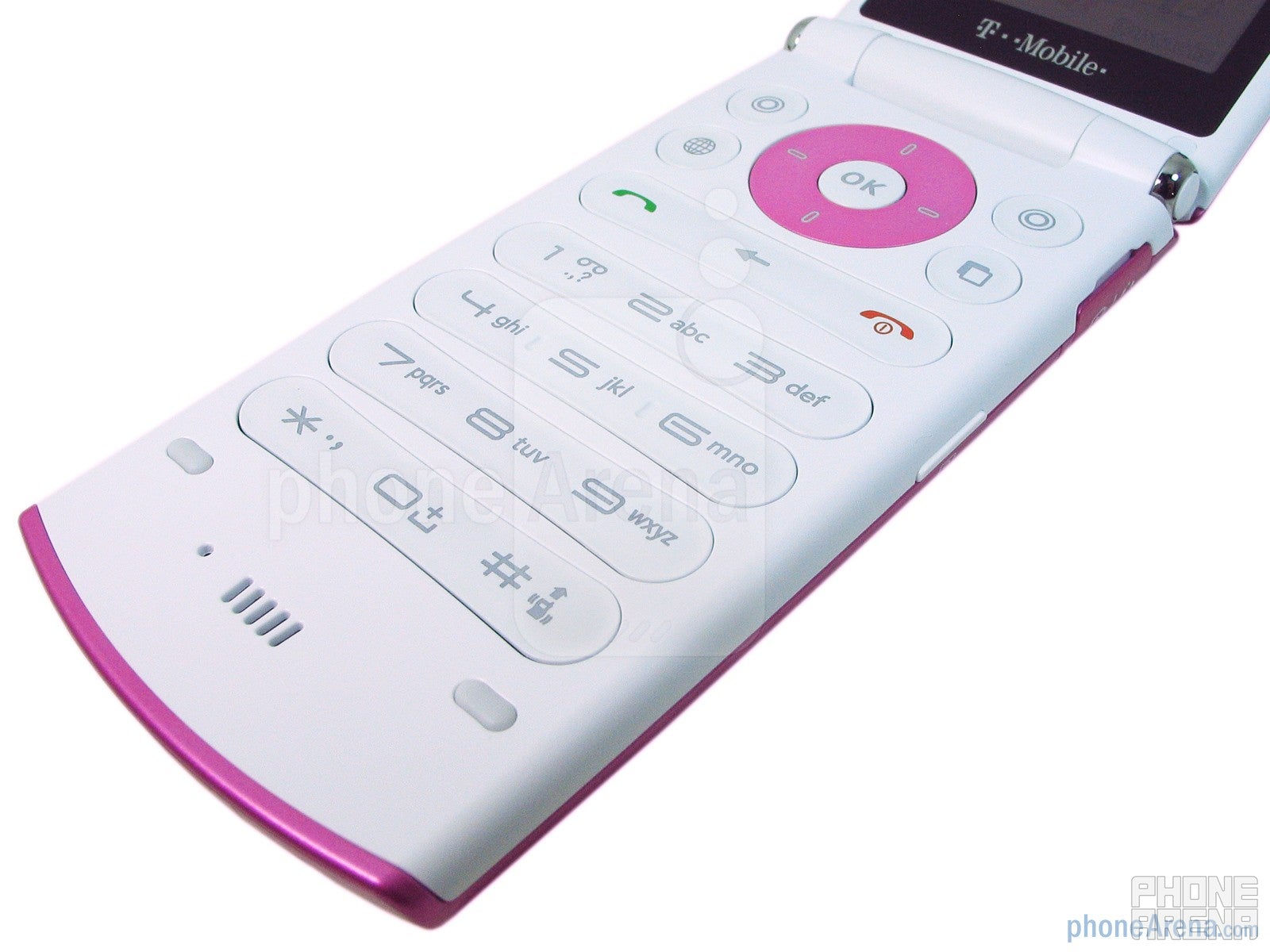 The
keypad
itself is completely flush to the surface, but thankfully well sized to allow even the most comfort for individuals with larger sized fingers – plus there's plenty of spacing to make it comfortable. Pressing down each button is accompanied with a decent response, but we find the dark blue back-lighting to be insufficient for most situations. The five way d-pad is more adequately sized to eliminate any accidental presses while the soft keys and dedicated buttons (browser and task list) are located nearby to reduce your travel. Finally, the speaker phone can be found directly next to the microphone while another notch found toward the earpiece is used for "voice clarity."
To the
left
edge, you've got a skinny looking volume rocker which happens to have an acceptable response when pressed. Lacking a dedicated 3.5mm headset jack, you'll have to rely using the microUSB port found on the
right side
to connect the included stereo headphones, while at the same time, also being used to charge and connect to a computer. On the rear, you'll find the
2-megapixel
all by itself while removing the back cover will present you access to the slot loading microSD card slot, battery, and SIM card slot.
Recommended Stories