T-Mobile G2 Review
3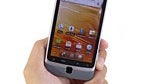 Introduction:
Almost without flinching, two years are already in the books since the original
T-Mobile G1
landed on the scene and stirring things up in the mobile landscape. Looking back at its humble beginnings, the handset ushered in a new era in the mobile community with Google's open platform – thus bringing Google into the thick of things alongside up and coming handset maker HTC. Two forces joined together in attempting to break the mold of what was then still the early days of today's modern smartphone wars, but as fate would have it, the long lasting partnership between the two would come around full circle once again. In a race to be the biggest, the fastest, and the best out of the bunch, the
T-Mobile G2
follows up to the original's pride and glory as it boasts some high-end specs that are tastefully complemented with an industrial design that only HTC can concoct. Not stopping there just yet, this $199.99 on-contract handset might seem like any flagship device out there, but its one striking uniqueness is found with its branding of being the first HSPA+ enabled smartphone in the market.
The package contains:
T-Mobile G2
8GB microSD card
microUSB cable
Wall Charger
3.5mm Stereo Headset
Start Guide
Design:
Although the only thing kept intact from its predecessor's design is the landscape style physical keyboard, everything else about the T-Mobile G2 is completely different; in a good way in fact. HTC is known for crafting some fantastic smartphones that radiate their industrial designs, but thankfully, the G2 is one of their more recent fine looking achievements. Compared to other recently launched handsets, like the
Droid Incredible
and
myTouch 3G Slide
, the G2 is classified in an entirely different category thanks to its premium materials and solid construction. The manufacturer didn't skimp out with fine materials as it employs a combination of a brushed aluminum finish and silver colored soft touch coating. The two materials mesh well with one another as it's evident that the device exhibits an industrial design that closely resembles the
HTC Nexus One
– but with a keyboard. For something packing along a physical QWERTY, which uses an interesting mechanism, the handset doesn't feel overly bulky (0.56" thick) – but there is a noticeable heft (6.35 oz) to it. All in all, we're confident that the handset will withstand the ravages of normal wear and tear, but a quick drop from a decent height, can definitely put a ding into its metallic exterior.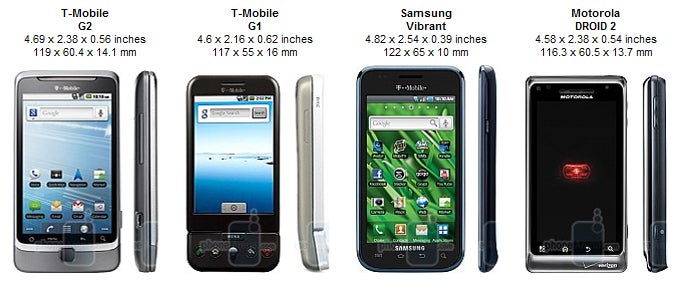 You can compare the T-Mobile G2 with many other phones using our
Size Visualization Tool
.
Rather than utilizing some fancy display technology, like Super AMOLED or an IPS display, the G2 simply resorts to using a
3.7" TFT display
with WVGA (480 x 800) resolution. Considering that everything else on the device has a high-end feel to it, this is one of the few areas that doesn't necessarily catch prying eyes. Sure it's able to produce plenty of detail, which makes even the smallest of text distinguishable, but there is nothing really swell about it – especially when other handsets have already trudged in the same path. It's more than capable of producing some rich looking colors, but nonetheless, it's still nowhere close to the level seen with AMOLED displays. And even though viewing angles are pretty good, it doesn't have that luminosity to make it glow from a good distance. However, it's naturally responsive to the touch as it never faltered in registering our finger hitting the display. Outdoor usage will prove to be an obstacle since it's difficult in making out what's on-screen when you're in the direct line of sight with the sun.
There's actually a small area below the touchscreen that's dedicated to its
capacitive buttons
– and we mean a thin line compared to other devices. Here you'll find the usual suspects like the home, menu, back, and search keys – all of which are accompanied with a haptic feedback when pressed. Luckily, we didn't experience accidentally hitting any of them since they're spaced far away from the outline of the phone. And instead of sporting the Nexus One's trackball, it simply relies on using a square shaped
track-pad
as an alternative way to navigate around the platform – or simply moving the cursor to a specific position. It's fairly sensitive to the touch and offers a decent tactile response when pressed down, but it manages to even light up or pulsate for various notifications.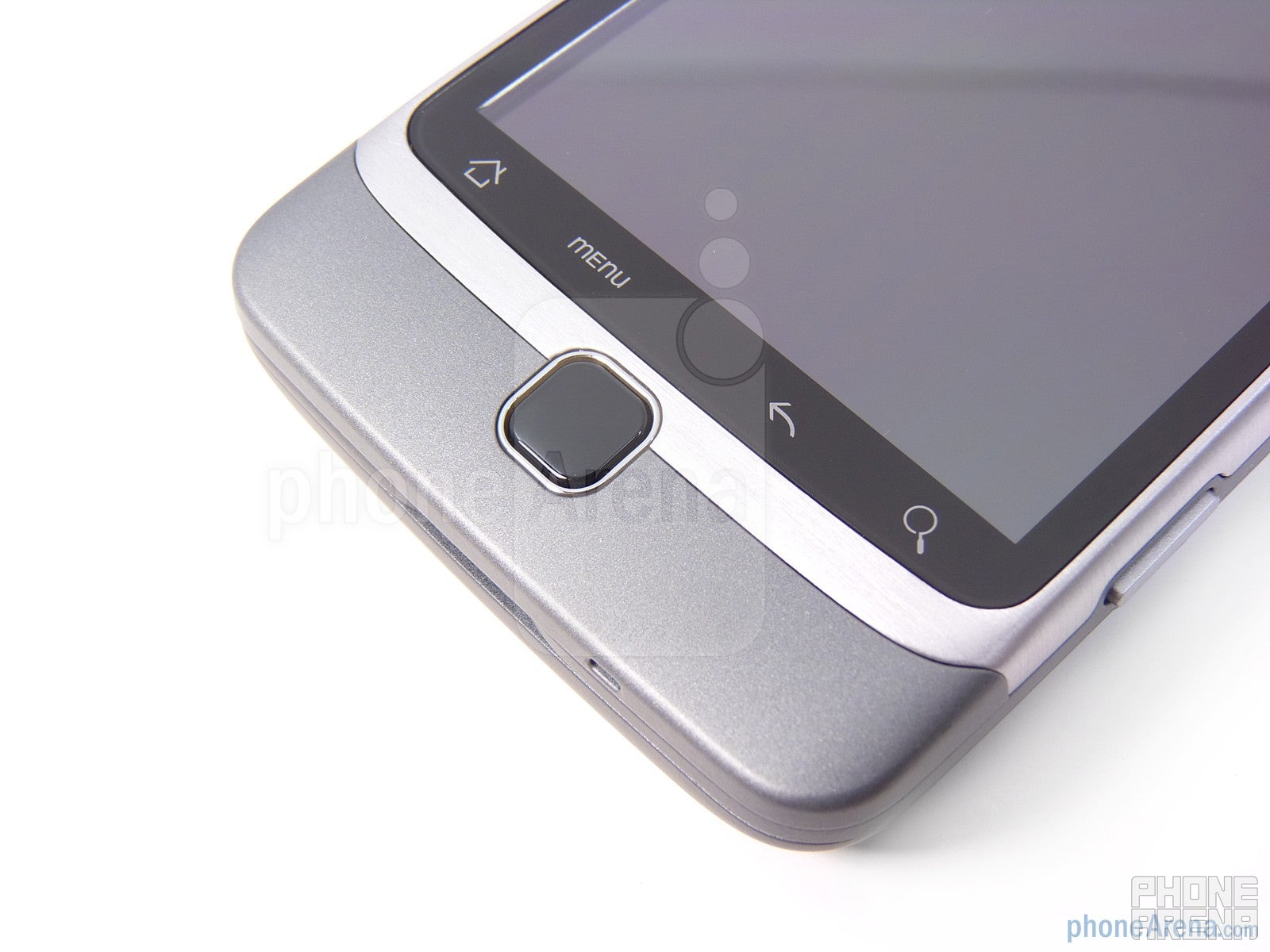 Capacitive buttons
The
left
portion of the handset houses the microUSB port and thin looking volume rocker which actually has some good feedback when pressed. Meanwhile, you'll find an adequate sized two-level shutter key along with a latch
on the right edge
that basically pops open the battery cover on the rear of the phone. On the
top
, you'll simply locate the 3.5mm headset jack and distinguishable dedicated power button – both of which follows the layout of some other phones like the HTC EVO 4G and Apple iPhone 4.
Flipping over the device, you'll be greeted to its "HTC" and "G2" branding which are etched into the brushed aluminum
rear
cover. Additionally, the 5-megapixel auto-focus camera and LED flash are located directly above the back cover with the speakerphone grill found in the same vicinity. And once you remove its solid metal like cover, you'll be presented access to its SIM card slot, battery, and microSD card slot – the latter of which is inconveniently hidden beneath the battery.
Similar to the unique sliding mechanism found with its predecessor, HTC decided once again to incorporate a unique spin when exposing its
QWERTY
. Thanks to their "
Z-hinge
", the way you open the handset is unique in itself seeing that you merely flip the front portion of the device so that it locks into position. Although it's different from everything else out there, we do question its functionality over time as it looks to be the most prone portion of the entire device. Sure the mechanism felt tight initially, but after some use, we find its responsiveness to lessen, which can cause it to stay in a mid open/close position. However, when you finally get the keyboard exposed, it's almost flush with the display while still providing ample room for your hands to grasp it. HTC delivers once again in producing an extremely usable keyboard that's filled to the brim with well sized buttons that are raised, spaced evenly from one another, and exhibit some great feedback when pressed. We also adore the fact that HTC decided to place the "ALT" and "Shift" keys on both sides of the QWERTY. Plus, there are three buttons that look like dots which can be assigned to launch a specific app or function.
T-Mobile G2 360-degree View: Recommended Stories