Samsung Sunburst A697 Review
13

Introduction:
We rarely witness a cell phone design that is truly different from our general understanding of how such a device should look. Over the years, we have come to think that Samsung is among these few companies that have affinity to experiment to a certain extent with the design of their handsets. The
Samsung BEAT DJ
immediately comes to mind here. Now, we are seeing just that happening in the U.S., with the new
Samsung Sunburst
that has recently made its appearance with AT&T. The Sunburst is one of those cell phones, which look truly unique, when placed next to the other offerings of the same class. Let's see if there's something more to it than meets the eye.
Design:
The Sunburst is a small device that fits well in the hands and should be a good size even for those with tiny hands. It has sleek, curvy lines and the design is straight out of Star Trek.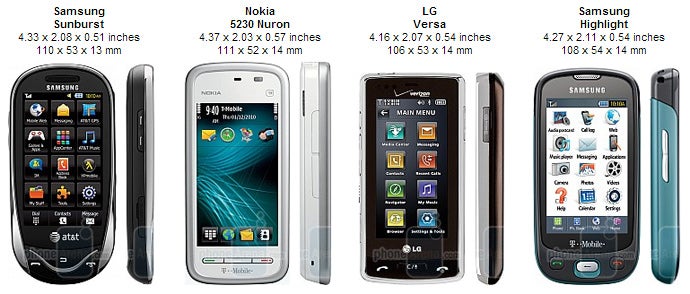 You can compare the Samsung Sunburst A697 with many other phones using our
Size Visualization Tool
.
The Samsung Sunburst's
3" touchscreen
predictably takes up most of the phone's front real estate, but below Samsung has squeezed in Send, End, and Back keys. Those who have been around awhile may feel some nostalgia for the Motorola v120 when they see the design element Samsung uses to separate these buttons: a swooping "V" that is chrome when off but lights up white when the phone is unlocked. The keys feel good, are big enough to press easily and have good travel.
The volume rocker and microSD slot can be found along the
left side
of the phone while the
right side
houses the combo charging/data/headset port, lock button and camera key. In this day and age we are surprised and disappointed to see Samsung's proprietary charging port and lack of a true headset port, especially since a 3.5mm adapter is not included. The 2 megapixel camera and speaker are on the back of the phone. The back door and sides of the phone have a soft touch coating giving a high quality feel.
The Sunburst is without a doubt a well-built phone that feels solid in the hand and slips comfortably in the pocket. For the most part Samsung has used premium materials for the Sunburst and it really shows. It is not a high-end phone on the spec sheet, but it certainly feels like one.
Samsung Sunburst A697 360 Degrees View: