The Sony Xperia Z1 Compact has a plastic back, the manufacturer states
25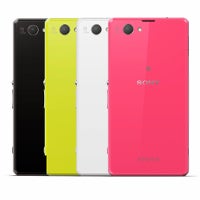 A few days ago, we told you that the back of the
Sony Xperia Z1 Compact might actually turn out to be made of plastic
. At first, the Japanese manufacturer had stated that the front and the back of the mini beast were made of "durable tempered glass". However, the White Paper for the
Z1 Compact
was later changed and claimed that only "the front side of the phone is made from durable glass".
And now, the White Paper for Sony's hot smartphone has been changed yet again. The suspicions turned out to be true, as this time Sony officially confirms that the back of the Xperia Z1 Compact is made of plastic: "The front side of the phone is made of durable tempered glass, and the back side is made of high-rigid plastic sheet". This is yet another difference between the Z1 Compact and its larger peer, the
Sony Xperia Z1
- the latter comes with a back, made of tempered glass.
Apart from the obvious size differences, the Xperia Z1 Compact and the Xperia Z1 come with almost identical hardware specs. The main differences between the duo are mostly in the display and the battery departments – the Z1 Compact sports a 720p display (the Z1 has a 1080p one) and a 2,300mAh battery (the one in the Z1 provides 3,000mAh).
So, what are your thoughts? Does the plastic back of the Sony Xperia Z1 Compact hurt its premium status? Or a little plastic here and there is just okay?
source:
Sony
via
XperiaBlog