Does the Sony Xperia Z1 Compact have a plastic back instead of a glass one?
28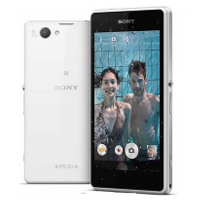 The extremely popular
Sony Xperia Z1 Compact
shares many of its specs with the full-sized
Sony Xperia Z1
. But there are differences with the size and resolution of the screen on the two devices. The full-sized Xperia Z1 carries a 5 inch screen with a 1080 x 1920 resolution, while the compact model brings a 4.3 inch panel with resolution of 720 x1280. The battery on the full sized model weighs in at 3000mAh while the Xperia Z1 Compact is powered by a 2300mAh cell.
But there could be another difference, one that Sony has not announced and has only hinted at. It seems that while the front and back panels of the Sony Xperia Z1 are made of glass, as is the front of the Sony Xperia Z1 Compact, the back panel of the latter device could be made of plastic. One reviewer wrote that the phone has "
a polished polycarbonate back and Gorilla Glass front
." Sony has recently responded to an inquiry about the back panel of the Xperia Z1 Compact by stating clearly that the rear panel of the device is made of glass. And that is where the story would die except for something interesting.
Based on a White Paper released about the device, Sony originally said that both front and back of the Sony Xperia Z1 Compact are made of glass. But the Japanese based manufacturer has recently changed the wording of a line in the White Paper from "
Both the front and back are made from durable tempered glass
," to now read, "
The front side of the phone is made from durable tempered glass
." Hmm. The White Paper for both the D5503 and M51w variants were changed on February 6th. The only change made to the White Paper was the removal of the words in the sentence stating that the back panel is made of glass.
Hopefully, Sony will clear up this issue by telling us the reason for the change in the White Paper. If it is not a convincing answer, what else can we conclude except that the back panel on the Xpeira Z1 Compact is made of plastic? The fact that we are even entertaining this possibility also tells us how far plastic has come as a material in the mobile industry.
Thanks, Anonymous Tipster
source:
XperiaBlog