T-Mobile accessory list hints at November appearance for some intriguing handsets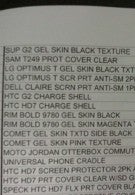 A leaked accessory list has a bunch of interesting handsets to appear on T-Mobile in November. Some of those we know a little about, some are announced, and on the rest we can only guess.
First off, the existence of the
HTC HD7 is confirmed
, although nothing is known about the specs. This is good news, as it is rumored to be
one of the solid
Windows Phone 7 devices out there, despite that the hints at 1.5GHz dual-core CPU
got shot down by Qualcomm
. Even if it "only" carries a
dual-core 1.2GHz chipset
, we'd still gladly take it.
Then comes the LG Optimus T. No idea on this one - given that the Optimus line contains both Android and WP7 devices, we couldn't really speculate what it will carry. Out hopes are high, though, since most of the low and midrange Optimus phones were already announced, or got into the rumor mill. Dual-core Tegra 2 is
reserved for the high-end Optimus models
, so this might be another beast on T-Mobile. Or, for that matter, it could be T-Mobile's version of the
Optimus One or Optimus Chic
.
The list goes on with the Motorola Begonia, which is a completely new moniker to us, and the rugged
Motorola Defy
(Jordan in the list), which has been already announced on
Oprah's show
. To cap it off, the carrier will introduce the
BlackBerry Bold 9780
with BlackBerry 6 OS in time for the holidays.
Looks like most of the devices are appearing with their internal codenames, so the above mentioned handsets could be hitting stores under totally different titles.
Which one would you like to see most on Big Magenta?
source:
TmoNews