HTC HD3 being re-branded to the HD7 & will launch October 18th?
1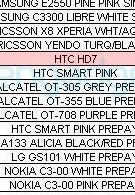 It was way back
early in the new year
when news surrounding the HTC HD3 first started to come around – especially when it was heard that the HD2 would not see an update for the new WP7 platform. Fast forward to now, and we're being presented with the notion that the HD3 is going to be re-branded into the HD7. The name obviously has its ties with Microsoft's upcoming Windows Phone 7 platform, but if a leaked internal document for UK carrier O2 is to be believed, we can see this powerhouse make some waves in the very near future. The leaked document is pointing to a release date of October 18th which is actually not too far away, but there is still no clear indication if the purported specs of what was seen with the HD3 will indeed make its way to the HD7. For starters, the HTC HD3 flaunted some truly impressive next generation specs – such as a 4.5 inch display that boasts a resolution of 1290 x 800 pixels and support for 16 million colors. Needless to say, anything sporting the letters HD would undoubtedly exude some high flying specs. So we'll have to just wait and see if things do pan out for this speculated HTC HD7 handset.
source:
Engadget