LG to introduce dual-core Tegra 2 smartphones in time for the holidays
0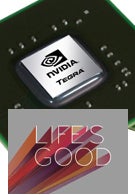 Well, well, well, look who might beat the big boys in having dual-core smartphones on the market as early as Q4! That's precisely what LG announced today - its high-powered Optimus line will have smartphones based on NVIDIA Tegra 2 introduced in the October-December timeframe.
We know NVIDIA is counting on the world's number three cell phone manufacturer to
get a foothold in the mobile business world
with its Cortex-A9 dual-core Tegra 2 chipset. Done with the 45nm process, the SoC features two cores humming along at 1GHz, 1080p video recording and decoding, as well as a low power NVIDIA GeForce GPU.
In the 3D graphics department it promises up to five times the performance of the single-core chipsets currently on the market. We don't know if that includes Samsung's Hummingbird or Apple's A4, the current best-in-class mobile GPUs, or just Snapdragon, but Samsung made a similar claim about its
dual-core Orion chipset today
, so we might as well be seeing console-level gaming capabilities in these smartphones.
From what we learned when
researching for our introductory article on the mobile chipsets topic
, NVIDIA claims ultra low-power requirements by including eight processors dedicated to different tasks, something that the other upcoming SoCs are doing as well. Buried in the Tegra's white papers, though, we found stats for 140 hours of audio on a standard 2000mAh battery, while the big boys are achieving 120 hours out of their Cortex-A9 chipsets, but from a 1000mAh battery. That is one major difference we are seeing from the already announced dual-core mobile chipsets from Qualcomm, Texas Instruments and Samsung. All of them claim 30% improvement in battery life compared to the single-core predecessors.
LG didn't specify what operating systems will these Tegra 2 smartphones carry. It still has a way to go on the promise to
deliver 20 Android phones
and
five Windows Phone 7 handsets
this year, so both of the mobile operating systems might have a dual-core future in the works.
Well, now we really can't wait for
next Tuesday's LG Optimus press event
, moreover it could also include the rumored Tegra 2-based Optimus Pad Android tablet.
source: LG via
AnandTech