Samsung Galaxy S7 Active vs Galaxy S7 edge vs Galaxy S7: battle royale
14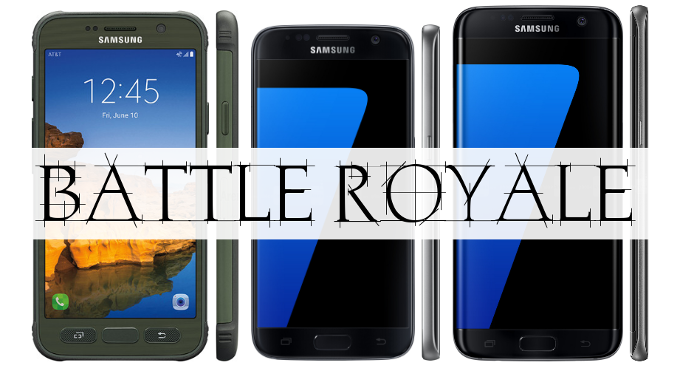 The arrival of the
Samsung Galaxy S7 Active
could have easily skipped your attention. It's okay, we will fill you in! Announced yesterday as an AT&T-exclusive, the S7 Active is the latest rugged phone to join the ranks.
With a durable body and shatter-proof Gorilla Glass 4 screen, the new device can certainly take a beating before succumbing its soul to the Happy hunting grounds. It's also IP68-certified, meaning it can survive for up to 30 minutes in a couple of feet of water and live to tell the tale. Oh, and it also has a new, customizable hardware button on the right side - useful for launching a certain app while you're in a hurry or an emergency.
It's also improving the specs sheet. Apart from boasting a Snapdragon 820, 4GB RAM, and 12MP f/1.7 camera, the S7 Active also has a 4,000mAh in its belly - that sounds really promising and suggests that it will certainly lap the regular S7 and S7 edge in any battery life test.
But how do these three stack up? Here's how:
Super AMOLED
Super AMOLED
Super AMOLED
855 cd/m2 (nit)
500 cd/m2 (nit)
Scratch-resistant glass, Ambient light sensor, Proximity sensor
Scratch-resistant glass, Ambient light sensor, Proximity sensor
Scratch-resistant glass, Ambient light sensor, Proximity sensor
Qualcomm Snapdragon 820 MSM8996 (14 nm)
Qualcomm Snapdragon 820 MSM8996 (14 nm)
Qualcomm Snapdragon 820 MSM8996 (14 nm)
Quad-core, 2200 MHz, Kryo, 64-bit
Quad-core, 2200 MHz, Kryo, 64-bit
Quad-core, 2150 MHz, Kryo, 64-bit
Adreno 530
Adreno 530
Adreno 530
Android (8.0 Oreo, 7.0 Nougat, 6.0 Marshmallow), Samsung TouchWiz UI
Android (8.0 Oreo, 7.0 Nougat, 6.0 Marshmallow), Samsung TouchWiz UI
Android (8.0 Oreo, 7.0 Nougat, 6.0 Marshmallow), Samsung TouchWiz UI
Qualcomm Quick Charge 2.0
Qualcomm Quick Charge 2.0
Qualcomm Quick Charge 2.0
28.00 hours
the

average

is 0 h (0 min)
36.00 hours
the

average

is 0 h (0 min)
3G: 11 hours; LTE: 13 hours; Wi-Fi: 14 hours
3G: 13 hours; LTE: 15 hours; Wi-Fi: 15 hours
Single camera
Single camera
Single camera
Aperture size: F1.7; Focal length: 26 mm; Sensor size: 1/2.5"; Pixel size: 1.4 μm
Aperture size: F1.7; Focal length: 26 mm; Sensor size: 1/2.5"; Pixel size: 1.4 μm
Aperture size: F1.7; Pixel size: 1.4 μm
3840x2160 (4K UHD) (30 fps), 1920x1080 (Full HD) (60 fps), 1280x720 (HD) (240 fps)
3840x2160 (4K UHD) (30 fps), 1920x1080 (Full HD) (60 fps), 1280x720 (HD) (240 fps)
3840x2160 (4K UHD) (30 fps), 1920x1080 (Full HD) (60 fps), 1280x720 (HD)
HDR, Picture-taking during video recording, Video calling, Video sharing
HDR, Picture-taking during video recording, Video calling, Video sharing
HDR, Picture-taking during video recording, Video calling, Video sharing
5.61 x 2.74 x 0.31 inches (142.4 x 69.6 x 7.9 mm)
5.94 x 2.86 x 0.30 inches (150.9 x 72.6 x 7.7 mm)
5.86 x 2.95 x 0.39 inches (148.8 x 75.0 x 9.9 mm)
5.36 oz (152.0 g)
the

average

is 5.9 oz (168 g)
5.54 oz (157.0 g)
the

average

is 5.9 oz (168 g)
6.53 oz (185.0 g)
the

average

is 5.9 oz (168 g)
Back: Glass (Corning Gorilla Glass 4); Frame: Aluminum
Back: Glass (Corning Gorilla Glass 4); Frame: Aluminum
Back: Plastic
Water, Dust; IP68
Water, Dust; IP68
Water, Dust, Shock, Temperature; IP68; MIL-STD-810 certified
Fingerprint (touch)
Fingerprint (touch)
Fingerprint (touch)
Touch sensitive control keys
Touch sensitive control keys
Recommended Stories