Report: T-Mobile to display the Google Pixel in stores, but won't sell it
22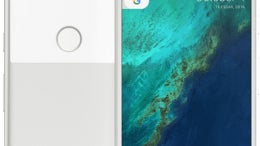 You might remember that T-Mobile CEO John Legere made a big deal about the
Google Pixel
working perfectly on T-Mobile's 4G LTE network. While the Pixel and the
Pixel XL
are both Verizon exclusives, T-Mobile offered a deal
that returned half the price of a 32GB Pixel (in bill credits) to anyone activating the phone on T-Mobile
. The Pixel does support many of the features found on the carrier's network including VoLTE, Wi-Fi calling and HD voice.
According to a report, either today or tomorrow T-Mobile will announce that it will display the Google Pixel in its retail stores, although the phone will not be sold there. Nor will the Pixel be available for purchase on T-Mobile's website either. If a T-Mobile customer sees the phone on display and inquires about it, he/she will be told by reps to complete the purchase of the phone from the Google Store (with a little help from the T-Mobile salesman), or from Best Buy. In both situations, the customer will be told about T-Mobile's Pixel promotion.
There are many questions about this. Will T-Mobile display only the 32GB Pixel since that is the model featured in its deal? Is the carrier getting ready to offer the Pixel itself? Does Verizon's exclusivity end on a certain date?
How many licks does it take to reach the center of a Tootsie Pop?
It is possible that this is just another promotion drummed up by T-Mobile's marketing department and perhaps we shouldn't make too much about it. Still, it is a clever way for T-Mobile to piggy back on the success of a phone it cannot sell, in order to sign up more subscribers. In addition, Verizon can't be terribly happy with all of this, which is probably considered by T-Mobile CEO Legere to be the cherry on top.
source:
AndroidPolice