Google Pixel Review
36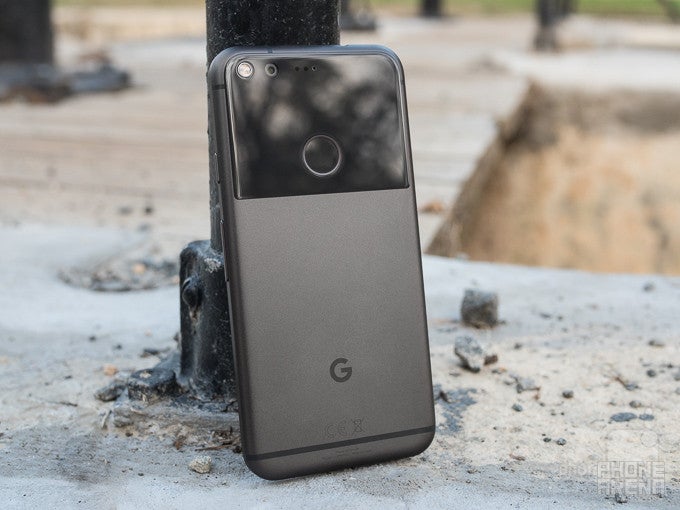 Introduction
One of the trickiest considerations for a company making smartphones is just how many options it should give shoppers. How many mid-rangers do you launch each year? How many flagships? What screen sizes do you hit, which phones get the best cameras – there's no shortage of questions these companies need to answer when putting together their lineups.
As shoppers, we might say that we want a whole lot of different phones to choose between, so we can come away with the one handset that meets all of our needs, but is that really what ends up happening? Or do too many options overwhelm us, and we end up just going with some big-name flagship, not necessarily because it's everything we were looking for (and nothing we weren't), but because it represents a seemingly safe, reliable option in a sea of unknowns?
But choice needn't be a bad thing – you just have to execute it well.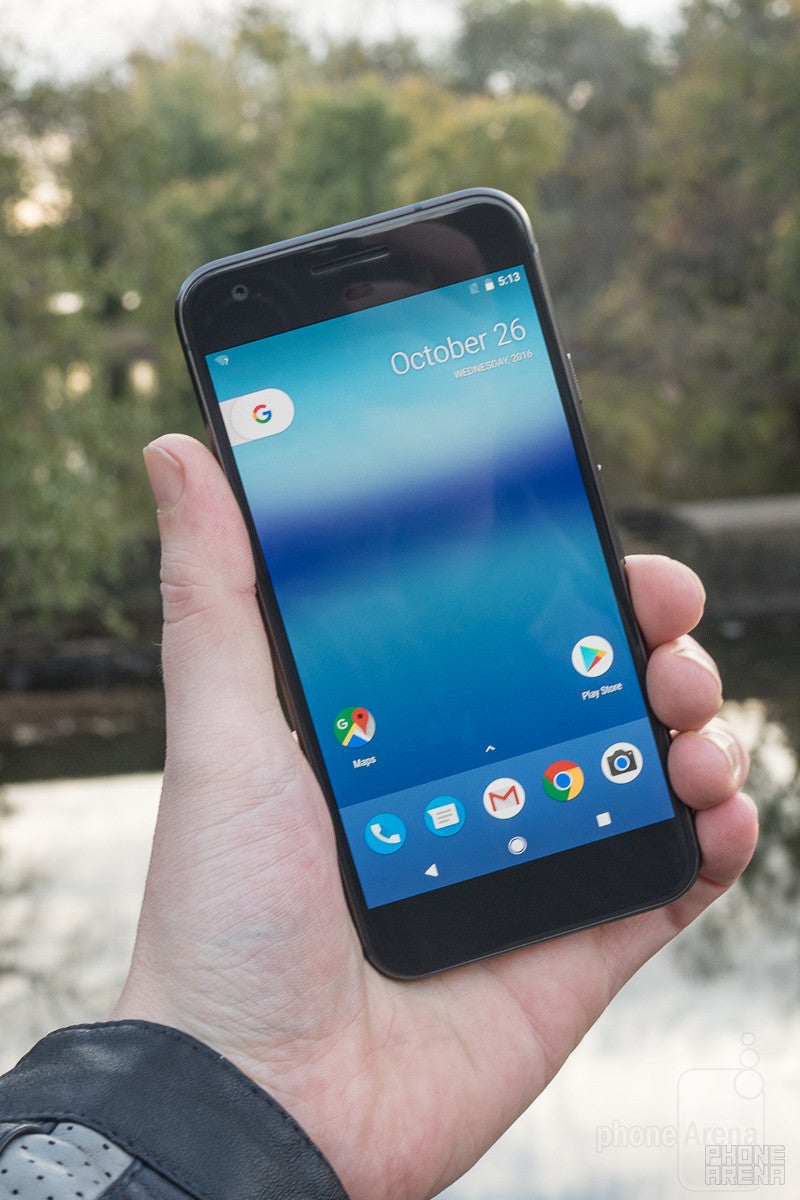 Last year, Google brought us a pair of Nexus phones for the first time in the line's history, the 5.2-inch
Nexus 5X
and the 5.7-inch
Nexus 6P
. But the question of which model to pick up was a lot more complicated than preferring the big Nexus or the little Nexus, as the phones had different processors, different amounts of RAM, different storage options, were made by different companies, and just straight-up didn't look all that alike. That's a whole lot of factors to weigh for a set of phones that seem like they should be two peas from the same pod.
Now in 2016, not only has the Pixel lineup arrived to replace Nexus phones, but Google's seriously simplified the decision-making process for choosing one model or another. With the
Pixel
and
Pixel XL
, we once again have a "big" and "little" Google phone, but this time around that really is the extent of the decision shoppers need to make: from camera, to processor, to RAM, storage, design, connectivity, and more, you're getting largely the same hardware regardless of which Pixel you choose. The only differences are ones closely tied to hardware size: a bigger phone affords room for a larger battery, and a bigger screen makes sense to stuff with more pixels.
At least, that's how it all looks on paper, but how do the two Pixel phones really compare? We've already brought you a full review of the larger Pixel XL, and now we turn our attention to the smaller five-inch Pixel.
In the box:
Google Pixel
USB Type-C to Type-C cable
USB Type-C to Standard-A cable
USB Type-C to Standard-A (Quick Switch) adapter
Power adapter
SIM tool
Intro cards (hardware, thank you, Google Assistant, Play Music 3-month trial)
Warranty booklet
Design
The smaller Pixel strikes a great balance between solid build and pocket-friendly size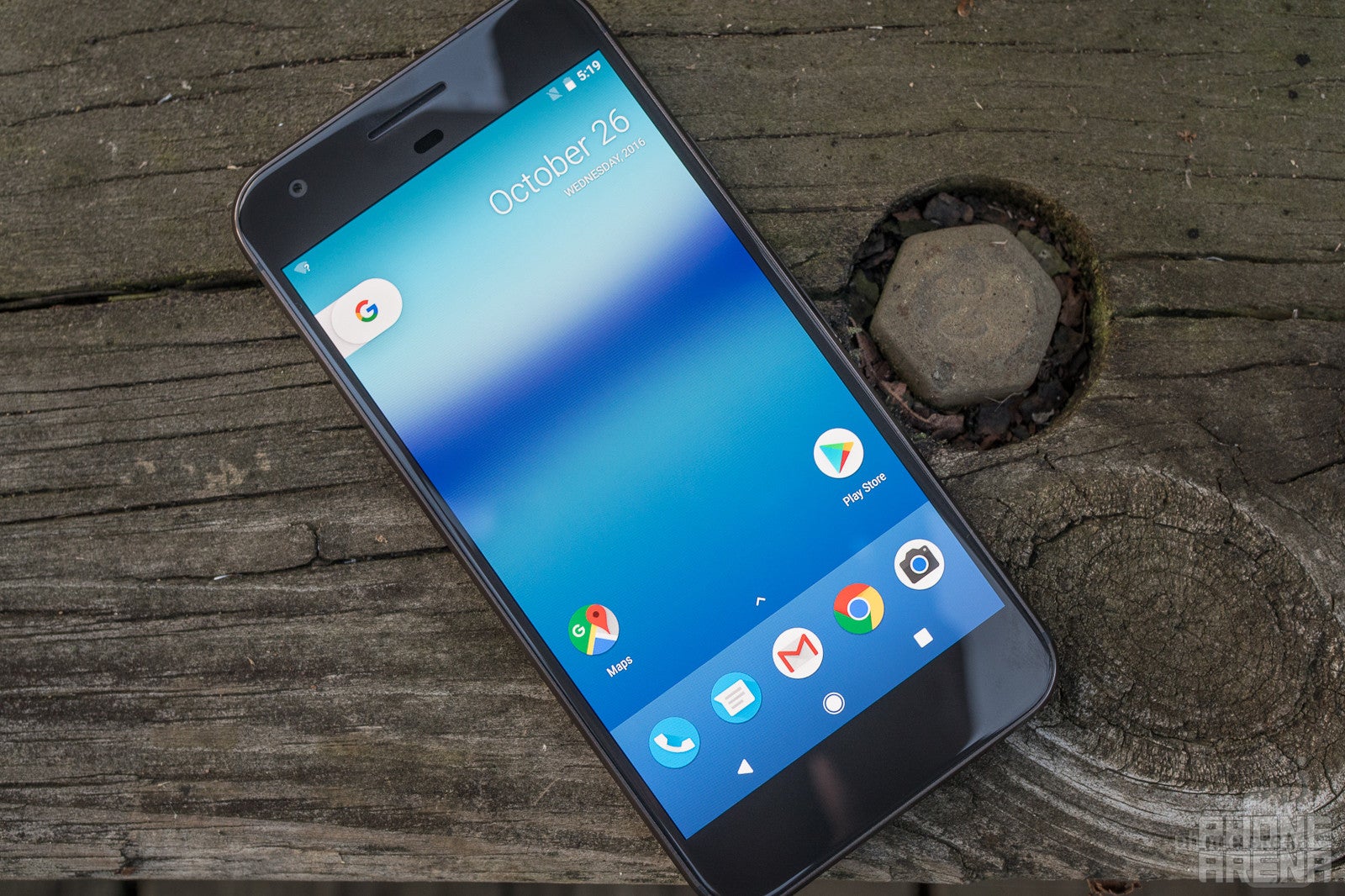 Crafting a smartphone these days that offers a unique look is no small feat. As some brands churn out featureless slate after featureless slate, or others find themselves repeating variations on the same standard design over and over again, a breath of fresh air can be hard to come by. But with Google's new Pixel phones, the company may have done just that.
Maybe the first thing you'll notice about the Pixel – and the larger Pixel XL, as well, which shares the same basic design – is this glass panel consuming the upper third of the phone's otherwise metal back. We've seen smaller adornments like this before (think: the camera "stripe" on last year's Nexus 6P), but the Pixel pushes it to a whole new level. At first, it's a look that may inspire some push-back; after all, it's easy to think of metal as a particularly robust and premium smartphone material, while glass just seems all sorts of damage-prone.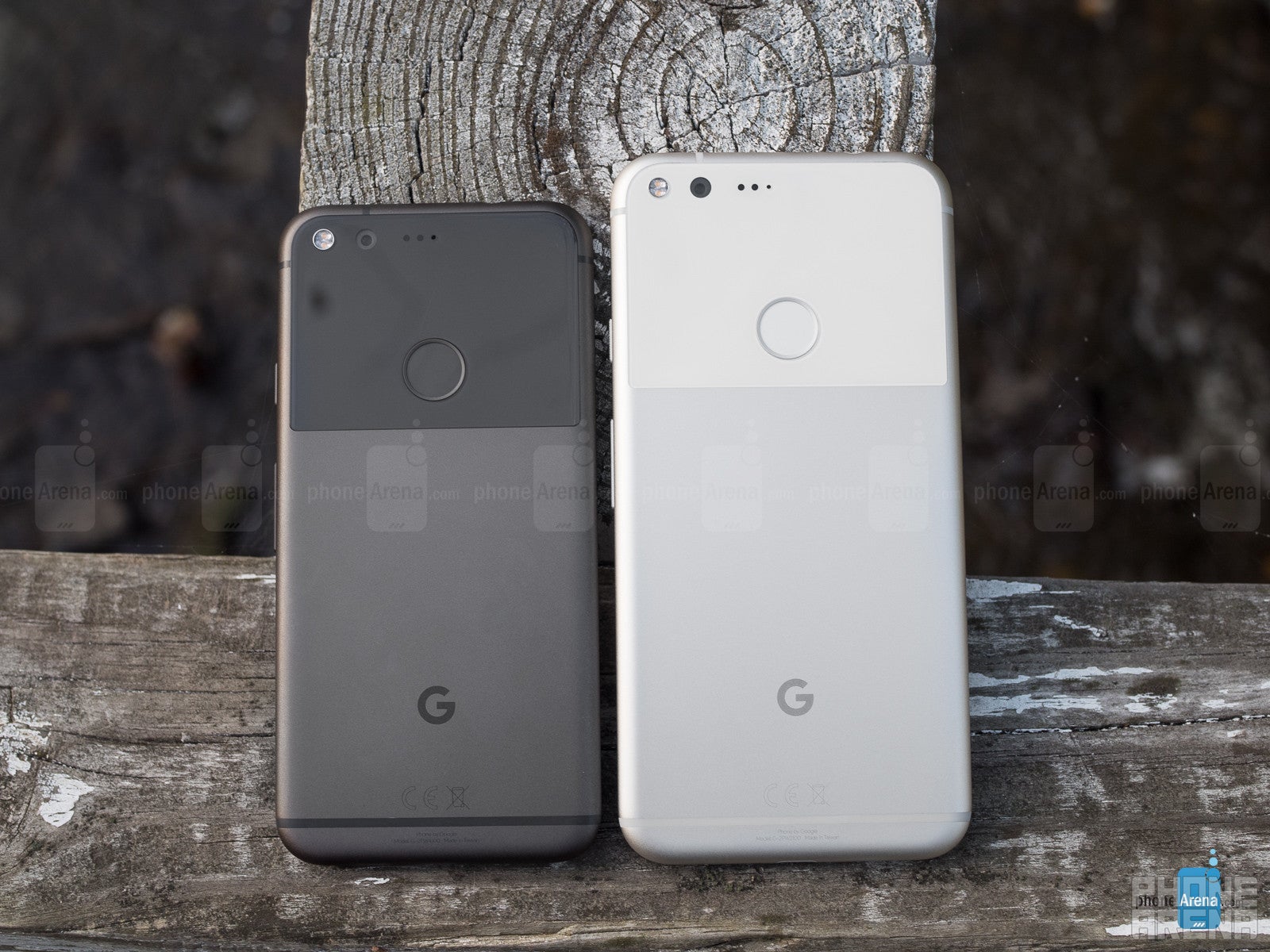 Google Pixel (left) and Google Pixel XL (right)
While time will tell just how well the Pixel holds up to a little use (and abuse), it didn't take long for us to come around to the phone's partially glass-covered back. One real benefit is the tactile effect the use of multiple materials affords, making it particularly easy to reach into your pocket and instantly know which direction the phone's facing. And while we can't deny that the glass is more fingerprint-prone than the metal making up the rest of the back, even its aesthetics have really started to grow on us.
Moving around the hardware, we've got a USB Type-C port and the phone's (mono) speaker on its bottom edge, the SIM tray on the right (with no hybrid microSD functionality – this is Google, after all), an analog headphone jack up top, and the power button and volume rocker on the right. The edge sports a hybrid design of its own, with a smooth curve transitioning to the phone's back, an angled bevel marking the move to the handset's face, and a solid, flat stripe in the center. The effect there makes for a phone that feels seriously nice to hold, while also offering a comfortably solid grip.
Though still made of metal like the Pixel XL, the smaller Pixel is noticeably lower-weight, and at 143 grams, it comes in about 15 percent lighter than the XL. And while the exterior dimensions of the phones are understandably different, they both display precisely the same thickness (varying between 7.31 to 8.58mm over the body of the handsets), further helping to unify them under a shared Pixel design.
Display
In need of a brightness boost, but still a largely satisfying screen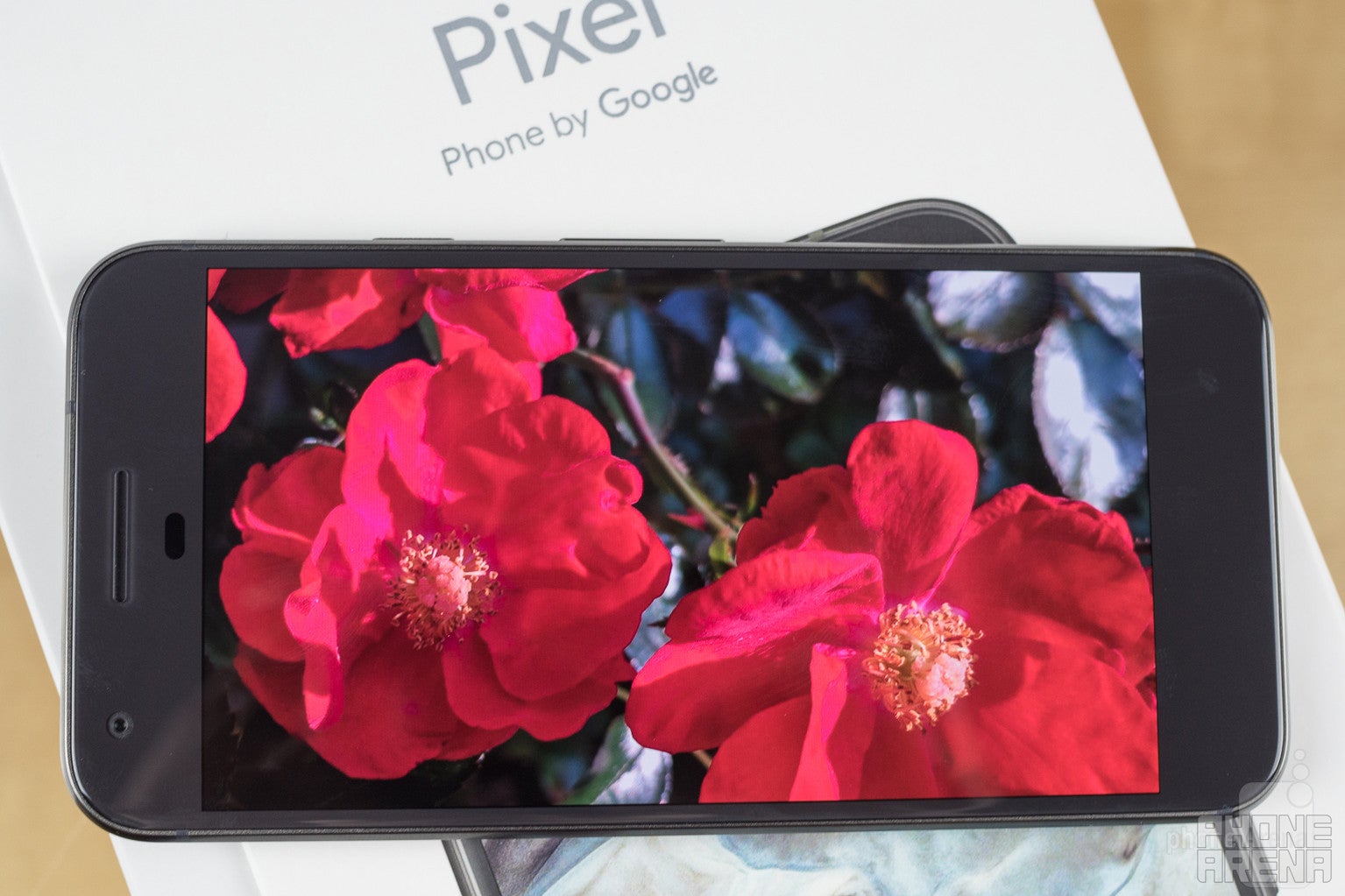 While the Nexus 5X had an LCD panel to the Nexus 6P's AMOLED screen, this time both Pixel phones get the AMOLED treatment. As a result, the screen on the Pixel displays the same sort of over-saturation that we experienced with the XL.
If you dig that bolder-than-real-life AMOLED effect, feel free to leave things just as they are, but as we recently pointed out, tucked away in developer settings for both Pixel phones you'll find a setting to switch the display over to an sRGB color space, resulting in much more accurate colors.
Besides its physically smaller size, the big difference with the screen on the five-inch Pixel is that it offers a 1080 x 1920 resolution display, to the XL's 1440 x 2560 quad-HD panel. If you're doing the math, that means a pixel density of 441 ppi to 534 ppi, or about 17 percent lower for the five-inch Pixel. In using the phone for several days, though, it never really came across to our eyes as having an appreciably lower-res screen, and with arm's-length operation at these high densities, the differences are hard to spot.
The arrival of Daydream may change our opinions on the importance of resolution in the Pixel phones – looking that close-up, every pixel matters – but for now, we're no less satisfied with the sharpness of the Pixel's screen than we were with the XL.
One interesting difference did come up in our analysis, though, with the Pixel's screen just a bit dimmer than the Pixel XL's. Considering we already had issues with outdoor visibility with the XL, that situation's only compounded with the smaller Pixel. That's clearly not great, but the five-inch display on the Pixel does appear to also offer one big benefit over the XL – though we'll get to that just a bit later on.
All display measurements for this Google Pixel review have been done using SpectraCal's CalMAN calibration software.


Display measurements and quality
Recommended Stories