Red Sox star David Ortiz signed deal with Samsung just one day before he shot selfie with Obama
13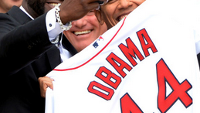 It appears that Ellen Degeneres might not be the only celebrity
to be given instructions on how to take a high profile selfie
using the
Samsung Galaxy Note 3
. The day before Ortiz and the rest of the World Champion Boston Red Sox visited President Obama for the customary Presidential visit, (all major U.S. sports league champions get to visit the president in the White House) the slugging first baseman/DH had signed an endorsement deal with Samsung. While word later leaked that Ellen was taught how to use the phablet to take a selfie, it is not known if the same directions were given to the Red Sox star.
When the White House photographer was about to snap a group picture, Ortiz interrupted and asked if he could take one of his own. The selfie of Ortiz and Obama had over 40,000 retweets at last count, far fewer than
the millions that retweeted Ellen's now famous Oscar selfie
. That picture set the record for the most popular tweet ever, ironically replacing one of the president and the First Lady embracing after he won his second four year term in office. Samsung quickly retweeted the Ortiz-Obama selfie to its 5 million members.
A White House official said that the president had no advance knowledge of Ortiz' decision to take a selfie with him. Samsung later confirmed its relationship with "Big Papi." Ironically, the president sided with Apple and against Samsung last year in a case involving the ITC. Apple faced injunctions against some of its devices including the
Apple iPad 2
,
Apple iPhone 4
and other models. Under the law,
the president can veto the sales ban, which he did
.
"We have a relationship with David and the Red Sox. We partner with people who have like-minded values and fit with who we are as a brand."
-Samsung
source:
@davidortiz
via
NewYorkPost