Ellen's Samsung Galaxy Note 3 sends out the most popular tweet in history
59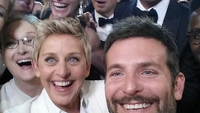 Samsung could not have asked for Ellen Degeneres to do a better job hosting the Academy Awards. Whether or not she was instructed to do so by Samsung, who was a key sponsor of the show, Degeneres twice took selfies during the telecast with her
Samsung Galaxy Note 3
. The second time, she gathered several members of the famous members of the audience together to take a selfie using the front-facing snapper on the phablet. Ellen then said that she would send the picture out as a tweet and instructed the huge television audience to re-tweet the message in an attempt to break the record for most popular tweet of all time.
As it turns out, it was mission accomplished for Degeneres, whose tweet can be found below. The message from @TheEllenShow broke the previous record which showed President Barack Obama and First Lady Michelle Obama embracing after the president won re-election in November 2012. Ellen's tweet actually "broke Twitter" as the ensuing traffic surge caused the messaging application to go down for a few minutes.
In case you're wondering who is in the picture on the record breaking tweet, you can see Ellen, Bradley Cooper, Jennifer Lawrence, Kevin Spacey, Brad Pitt and others. By the way, we'd say that Ellen did a fabulous, if understated job, which certainly cleared the stench left over from Seth McFarlane's hosting job last year.
While the Oscars has its usual set of winners and losers, Samsung was the big winner in the mobile space. Besides getting as much free publicity from Ellen as possible, the Korean tech titan
debuted ads
for the
Samsung Galaxy S5
and Samsung Gear 2 smartwatch. Each 30 second spot cost the manufacturer $1.8 million. Samsung bought 5 minutes of airtime for Sunday night's show.
source:
@TheEllenShow,
@BarackObama
via
Forbes
UPDATE:
Well, no sooner does the telecast end then it was revealed that while Ellen might have been using a Samsung Galaxy Note 3 on stage, backstage she was employing her Apple iPhone. That's show biz!
source:
Gizmodo