Poll results: Which smartwatch platform you consider most likely to prevail?
27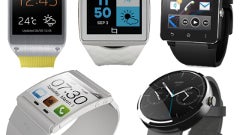 Google announced its new
Android Wear
platform last week, meant for smartwatches and other wearables, and we thought we'd ask your opinion on which smartwatch platform is likely to ultimately prevail. Granted, we are yet to see what an eventual
Apple iWatch
will offer, but if the
leaked Healthbook app
is any indication, it will be a force to be reckoned with.
On the other hand, right now we have Samsung's
Galaxy Gear
line, powered by the Tizen OS,
Sony's SmartWatch
line,
Pebble's open platform
, and
Qualcomm's Toq
undertaking. That's a lot of smartwatch platforms to choose from, and yet the majority of you (62%) are fans of Android Wear, which makes possible devices like the
Moto 360
, or the
LG G Watch
.
Apple's iWatch follows with 13%, which is a pretty decent result for something that is only a speculation, with the smorgasbord of other platforms taking a third place. All in all, out of 2282 respondents, Android Wear takes the lion's share of goodwill, and once all smartwatch platforms have tangible representatives, we will probe again to see if there's been a change in perceptions, after the actual product reviews.