Perks highlight: check out these official Samsung Galaxy S5, Gear 2, and Gear Fit hands-ons
24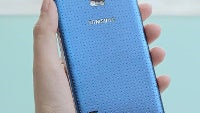 Man, are times changing! Manufacturers' repertoires, while complex and dynamic, have been a thoroughly familiar topic for us for quite some time now. But product promos in the form of a full-length 'official hands-on'? Now
that
is something somewhat new, at least at this scale, and it appears to be catching on.
Samsung is doing its part, and has just posted an official hands-on of its upcoming Samsung Galaxy S5 flagship, in what feels more like a features showcase than anything else. That's fair, and we certainly like the occasional change in point of view, and so should you. Which, not at all surprisingly, is why we're sharing this with you, so that you get to see all the new perks you could get your hands on should you invest into the Galaxy S5. From Samsung's perspective, anyway. Expect to see demos of Download Booster, Ultra Power Saving Mode, the 16-megapixel shooter and the goodies it'll be bringing to the table, and also stuff like the heart rate monitor and the new swipe-type fingerprint sensor.
Oh, and by the way, on an arguably less intriguing note, the South Korean company is also demoing the cool stuff that you can do with its new generation of wearables -- the Gear 2 and the Gear Fit -- in another 'official' hands-on video. If you find yourself on the fence about making the next step in your digital life, the company is probably hoping that its highlight reel will give you the push you need.