The Moto 360 may feature sapphire glass and magnetic induction charging
31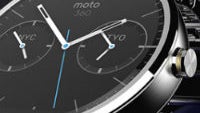 During the Google+ Hangout with Moto 360 lead designer
Jim Wicks
, there was a little talk about what Motorola's
smartwatch
would use as a charging mechanism. Wicks had noted that the device didn't have any charging ports, and he hinted that Motorola could be using something "secret" to charge the device. The rumor mill took the word "secret" and ran with it, with some guessing that the 360 could use solar charging, or even kinetic charging.
But, a new rumor is saying it may not be anything as interesting as that. Word from China is saying that the 360 will use magnetic induction charging, which sounds like basic Qi wireless. There had been thoughts that Motorola could go with the newer
Rezence
charging, but that uses magnetic resonance, not induction. Though, it wouldn't make sense why Motorola would need Qi to be a "secret" since it's already in so many devices.
The rumors are also pushing out some ideas about the display of the Moto 360. We know it will be round, and about 1.81-inches in diameter, and the new report is saying it will be OLED and covered with sapphire glass. OLED makes sense for smartwatches, and makes sense with Motorola, because it has already used the technology quite well with the Active Display on the Moto X. As for the sapphire glass, that would certainly fall in line with the idea of "premium" materials that Motorola is pushing with this device.
Of course, sapphire always presents issues with production, and the rumors have said that the Moto 360 is already
having troubles
with building the device.