OnePlus 6 size comparison versus all of its rivals
11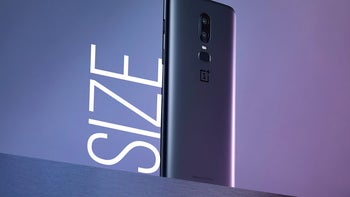 With lots of fanfare, OnePlus today unveiled the
OnePlus 6
, its 5th-gen flagship device that wants continues to challenge the established order and offer top-of-the-line specs at a rather stomachable price tag.
Joining the fray with its efficient 19:9 display aspect ratio, bezel-busting design, and thin frame, the device looks every bit modern, just like the majority of contemporary mid-range and flagship phones that aim to maximize the precious screen real estate, even at the stake of getting a controversial display notch up front.
It's quite logical to wonder how the large, 6.3-inch display of the phone will affect its usability and pocketability. That's large even for nowadays' bezelless phones and we are quite curious to see how the handset stacks up against its rivals, like the
iPhone X
,
Galaxy S9
/
Galaxy S9+
,
LG G7 ThinQ
, the
Pixel 2 XL
, and many others.
Time for a size comparison!

First, we'll compare the new device against arguably the most popular phones these past few months - Apple's iPhone trio which doesn't get much fanfare these days but continues to steadily sell millions of units all across the globe.
Next up, we decided to size up the OnePlus 6T against the best Samsung has to offer right now - the Galaxy S9, S9+, and the Note 8.
The LG G7 ThinQ, the Pixel 2 XL, and the Huawei P20 Pro are next up in line for a size comparison against the all-new OnePlus 6.
Finally, we pit the OnePlus 6 against its predecessor, the Nokia 7 plus, and the Sony Xperia XZ2 Premium.