New Nokia Lumia 925 ad shows how the Remove Object feature can make your life better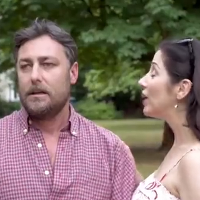 Earlier on Monday, we showed you how
Nokia used a mobile billboard to pop Samsung's bubble
after messing with a
Samsung Galaxy S4 Zoom
ad. Now, Nokia has a new television spot that shows off a feature called
Remove Object
. The aptly named feature allows users to remove unwanted objects from photographs. For example, let's say you're spending a lovely afternoon in the company of your wife and daughter when all of a sudden your daughter happens to run into a male friend who gives her a lingering kiss to your chagrin.
Trying to freeze out your daughter's friend, you decide to take a picture of your wife and daughter using your
Nokia Lumia 925
. But there is not much you can do when your daughter's friend decides to weasel his way into the picture. Or is there? After the picture is snapped, you feign happiness at the outcome of the photograph, but you have a different reason for smiling. Using 'Remove Object' you erase your daughter's friend from the picture as though he never existed.
Ah, if only you could use this in real life to really erase the people that ruin your life.
source:
Nokia
via
WMPoweruser