Nokia Lumia 925 Review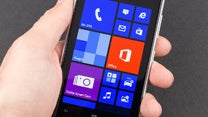 Introduction
Ever since the introduction of the first Lumia phone, Nokia has been improving and refining its Windows Phone-powered line-up with each new model. Feature by feature and app by app, we've finally arrived at the
Nokia Lumia 925
– an ambitious smartphone that attempts to offer a well-rounded experience to customers, for whom plastic just won't cut it.
Not to be considered a direct successor to last year's
Lumia 920
, the Lumia 925 is more of refresh that adds a new and largely improved design, a slightly better camera and an AMOLED screen replacing the IPS LCD panel. Read on to learn if all of these changes have been for the better, as well as if the Lumia 925 is the Windows Phone smartphone that can easily replace a high-end Android model or an iPhone.
Design
The Nokia Lumia 925 has a lot to offer in the design department. Most previous Lumia models simply looked good, but weren't necessarily anything extraordinary. Most were heavy and bulky, and all of them were made of high-quality plastic. With the Lumia 925, however, Nokia has decided to aim a bit higher, as it has added a small, exquisite element to the handset's design – the frame surrounding the phone is made of (real) aluminum, giving the phone a more premium look and feel. The back side of the device is still made of polycarbonate, though, and while we can't say that it feels great, it's not bad either.
The metal frame is not the only asset of the Lumia 925's design. The handset is also the thinnest Lumia yet at 8.5 mm. We're happy to report that it's also much lighter than the Lumia 920, which was quite heavy at 6.53 oz (185 g). In comparison the Lumia 925 is about 25% lighter at 4.90 oz (139 g).
Display
One of the major differences between the Lumia 925 and Lumia 920 is the fact that the former uses an AMOLED display. This is surely one of the better AMOLED displays we've seen, with a reasonable color balance and temperature, although still far from perfect. Sadly, brightness peaks at about 280 nits (comparable to that of the Galaxy S4), which makes the display a bit hard to view under bright daylight.
Other than that, the characteristics of the screen have remained the same, with a diagonal measuring 4
.5 inches
and a
resolution of 768 x 1280 pixels
. While definitely not 1080p, this resolution and screen size combo make for a
pixel
density of 334 ppi, which is still great. Aside from the smallest text in the web browser, everything else will look perfectly clean.
When it comes to viewing angles, the Lumia 925 isn't the best performer out there. While its image quality is very good when viewed straight on, colors quickly get greenish once you tilt the phone at just about 20 degrees. Most things are still readable, but image quality degradation is obvious.