Microsoft 950 XL vs Apple iPhone 6s Plus vs Samsung Galaxy Note5: specs comparison
21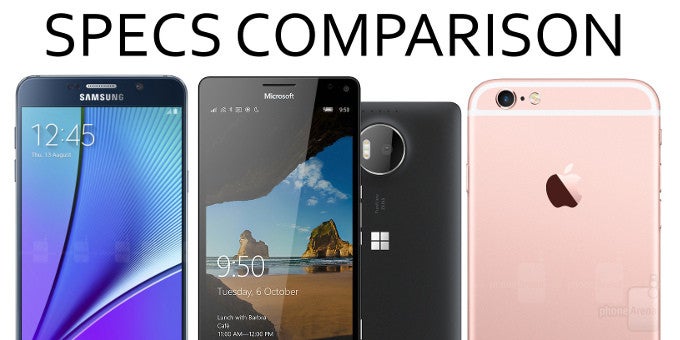 Microsoft just announced its brand new 5.7-inch Lumia 950 XL, a new addition to its smartphone portfolio. The thing that truly captures in this device is the liquid cooling tech that aims to put the leash on the on-board Snapdragon 810 chipset and prevent it from over-heating, which is an issue plaguing it.
The Lumia 950 XL has a pretty good specs sheet, to say the least. We won't list all of the specs here, as these can be viewed by scrolling down. Apart from the raw technical data, you will certainly notice the two other rather notable headsets that we've also thrown in: the iPhone 6s Plus and the Galaxy Note5.
As we are curious to see how the three compare against each other.
Super AMOLED
IPS LCD
AMOLED
Scratch-resistant glass, Ambient light sensor, Proximity sensor
Pressure-sensitive, Oleophobic coating, Scratch-resistant glass, Ambient light sensor, Proximity sensor
Scratch-resistant glass, Ambient light sensor, Proximity sensor
Samsung Exynos 7 Octa 7420 (14 nm)
Apple A9 APL1022
Qualcomm Snapdragon 810 MSM8994
Octa-core, 2100 MHz, ARM Cortex-A57 and ARM Cortex-A53, 64-bit
Dual-core, 1840 MHz, Twister, 64-bit
Octa-core, 2000 MHz, ARM Cortex-A57 and ARM Cortex-A53, 64-bit
Mali-T760 MP8
PowerVR GT7600
Adreno 430
64GB, not expandable
128GB, not expandable
32GB
Android (7.0 Nougat, 6.0 Marshmallow, 5.1 Lollipop), Samsung TouchWiz UI
iOS (15.x, 14.x, 13.x, 12.x, 11.x, 10.x, 9.x)
Windows (10 Mobile)
25.00 hours
the

average

is 11 h (660 min)
16.0 days (384 hours)
the

average

is 29 days (688 h)
12.0 days (288 hours)
the

average

is 29 days (688 h)
22.00 hours
the

average

is 0 h (0 min)
24.00 hours
the

average

is 0 h (0 min)
19.00 hours
the

average

is 0 h (0 min)
3G: 12 hours; LTE: 12 hours; Wi-Fi: 12 hours
64.00 hours
80.00 hours
75.00 hours
15.00 hours
14.00 hours
11.00 hours
Single camera
Single camera
Single camera
16 MP (OIS, PDAF, CMOS image sensor, BSI sensor)
12 MP (Sapphire crystal lens cover, OIS, PDAF, BSI sensor)
20 MP (OIS, Autofocus, BSI sensor)
Aperture size: F1.9; Focal length: 28 mm; Sensor size: 1/2.6"; Pixel size: 1.12 μm
Aperture size: F2.2; Focal length: 29 mm; Sensor size: 1/3"; Pixel size: 1.22 μm
Aperture size: F1.9; Focal length: 26 mm; Sensor size: 1/2.4"; Pixel size: 1.12 μm
3840x2160 (4K UHD) (30 fps), 2560x1440 (QHD), 1920x1080 (Full HD) (60 fps), 1280x720 (HD), 640x480 (VGA)
3840x2160 (4K UHD) (30 fps), 1920x1080 (Full HD) (120 fps), 1280x720 (HD) (240 fps)
3840x2160 (4K UHD) (30 fps), 1920x1080 (Full HD) (60 fps), 1280x720 (HD) (120 fps)
OIS, Continuous autofocus, Object tracking, EIS, Video calling
OIS, Time-lapse video, Continuous autofocus, Video calling, Video sharing
OIS, Continuous autofocus, Video light, Video calling, Video sharing
6.03 x 3.00 x 0.30 inches (153.2 x 76.1 x 7.6 mm)
6.23 x 3.07 x 0.29 inches (158.2 x 77.9 x 7.3 mm)
5.98 x 3.09 x 0.32 inches (151.9 x 78.4 x 8.1 mm)
6.03 oz (171.0 g)
the

average

is 6 oz (172 g)
6.77 oz (192.0 g)
the

average

is 6 oz (172 g)
5.82 oz (165.0 g)
the

average

is 6 oz (172 g)
Back: Glass; Frame: Metal
Back: Aluminum
Back: Plastic
Fingerprint (touch)
Fingerprint (touch)
Iris scanner
Stylus, Touch sensitive control keys
Notification light
Touch sensitive control keys