Apple iPhone 6s Plus Review
99+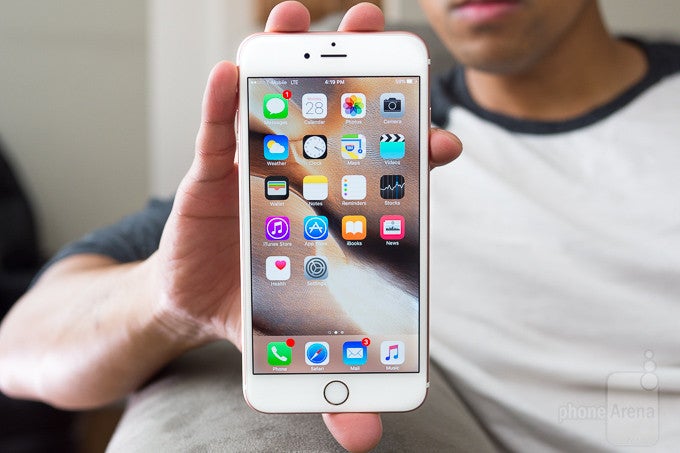 Introduction
Steve Jobs was notoriously known to be staunchly opposed to the idea of making 'bigger' sized phones, but in today's landscape, it's almost absurd to deny the kind of place that these monster-sized phablets occupy. With Tim Cook at the helm of Apple, though, the company managed to appeased the masses with the introduction of the
iPhone 6 Plus
last year.
People love big phones, that's just the undeniable truth, seeing that each year companies are pushing the boundaries by trimming off as much of the fat as possible to still make them somewhat manageable to operate. Apple finally delved into the phablet space with the iPhone 6 Plus, which unsurprisingly enough, has gone on to become one of the most popular smartphones this last year.
Now, being one of those 'S' years, 2015 marks the appearance of the 6 Plus's successor – the
Apple iPhone 6s Plus
. True, the new phone might appear unchanged on the outside, but Apple has cooked up some special goodies to keep its phablet in contention for another year.
Competition has been fierce, even in the last month alone, because of the gravitating pull of the
Samsung Galaxy Note5
– the phablet to beat in the space. While Sammy's prized darling has already gone on to receive acclaim, and also a much-needed boost in its design, the iPhone 6s Plus is on its own journey to be the phablet to beat this holiday season. And that's not all, as there are several notable 5.5-inch and up smartphones released in the last few months alone that have garnered impressive packages as well. Can the iPhone 6s Plus launch a counter attack to stave off the competition for another year? Let's find out!
The package contains:
Apple iPhone 6s Plus
Wall charger
Lightning cable
Earpods
Quick start guide
Apple decals
Design
Besides the new rose gold color option, this is still the same meticulously crafted, premium smartphone from before.
Being in that 'S' year, it shouldn't surprise anyone to know that the iPhone 6s Plus doesn't see any major changes with its design – so if we're to put the two side-by-side, it'd be difficult to tell what's what. There's still that legendary premium design from Apple, one that's accentuated most profoundly by its smooth and balanced aluminum frame. To be fair, though, they've gone on to employ an even stronger 7000 Series aluminum to give it greater strength and durability, so for those concerned about another bendgate scandal, don't count on it.
The Apple iPhone 6s Plus continues to pay homage to last year's model by sporting rounded edges, the same plastic antenna bands around its rear, and the same button placements from before. It looks good, it feels good – the characteristics that instantly become apparent the moment it's grasped. Despite its solid construction and svelte profile, it still irks us that they haven't solved that subtle detractive look with the hump to its camera lens.
Superficially it looks similar to the iPhone 6 Plus before it, but the 6s Plus actually bears some changes with its design. First and foremost, there's now a new color option that's available with the phone – rose gold. Frankly, it's very subtle, because it looks more salmon-pink than rose gold, since it shimmers from its 'rose gold' color to silver, and even gold sometimes, depending on the angle we're viewing it.
Secondly, the iPhone 6s Plus is technically heavier too, tipping the scale at 192 gr – while its predecessor weighed in at 172 gr. The difference isn't immediately noticeable, but it becomes apparent when you hold the two side-by-side. Combining its already wide figure, it makes the iPhone 6s Plus even more substantial to hold, thus, requiring two hands to operate it ideally. Meanwhile, the sturdier 7000 Series aluminum material might assure us that this is a stronger iPhone than what we had with the previous generation, but it still doesn't prevent us from being precautious about its handling.
Apple's newest phablet no doubt embodies all the qualities we'd want to find in a premium offering, so there's little to complain about its recycled design. From its sturdy and new 7000 Series aluminum, all the way to its incredibly svelte construction, it's indicative of a meticulously made smartphone. However, we're still wondering how they're not able to solve that odd protrusion with its camera lens yet. Oh well, there's always next year!
Going with the recycled design, it means that all of its ports and buttons are situated in the same locations. Therefore, that means the power button is on its right side, along with its nanoSIM slot, and the volume controls with the mute switch are situated on the left. Meanwhile, the top edge is completely clean – whereas with the bottom edge, it's home to the 3.5mm headphone jack, microphone, Lightning connector port, and speaker grill.
Apple has improved the Touch ID finger print sensor as well, which of course, is incorporated into the home button. All in all, we can say that Touch ID is slightly more responsive in reading a fingerprint now, but honestly, it's a really small difference.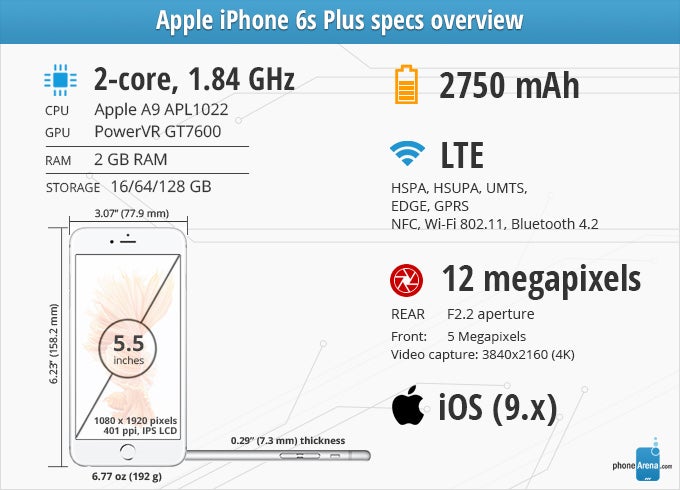 Display
The Retina Display sees some iterative improvements, but it's 3D Touch that's the star of the show.
Back for round two, the Apple iPhone 6s Plus is fashioned with a 5.5-inch 1080 x 1920 Retina Display, one that's based on IPS-LCD technology, the same one that's been favored by Apple all this time. Not one to embrace a Quad-HD screen resolution just for the sake of it, the 401 ppi pixel density of the iPhone 6s Plus' display is more than sufficient in delivering sharp details that are pleasing to the eye.
Apple's displays have always been accompanied with some fantastic qualities, so it comes to no shock that this latest one follows suit.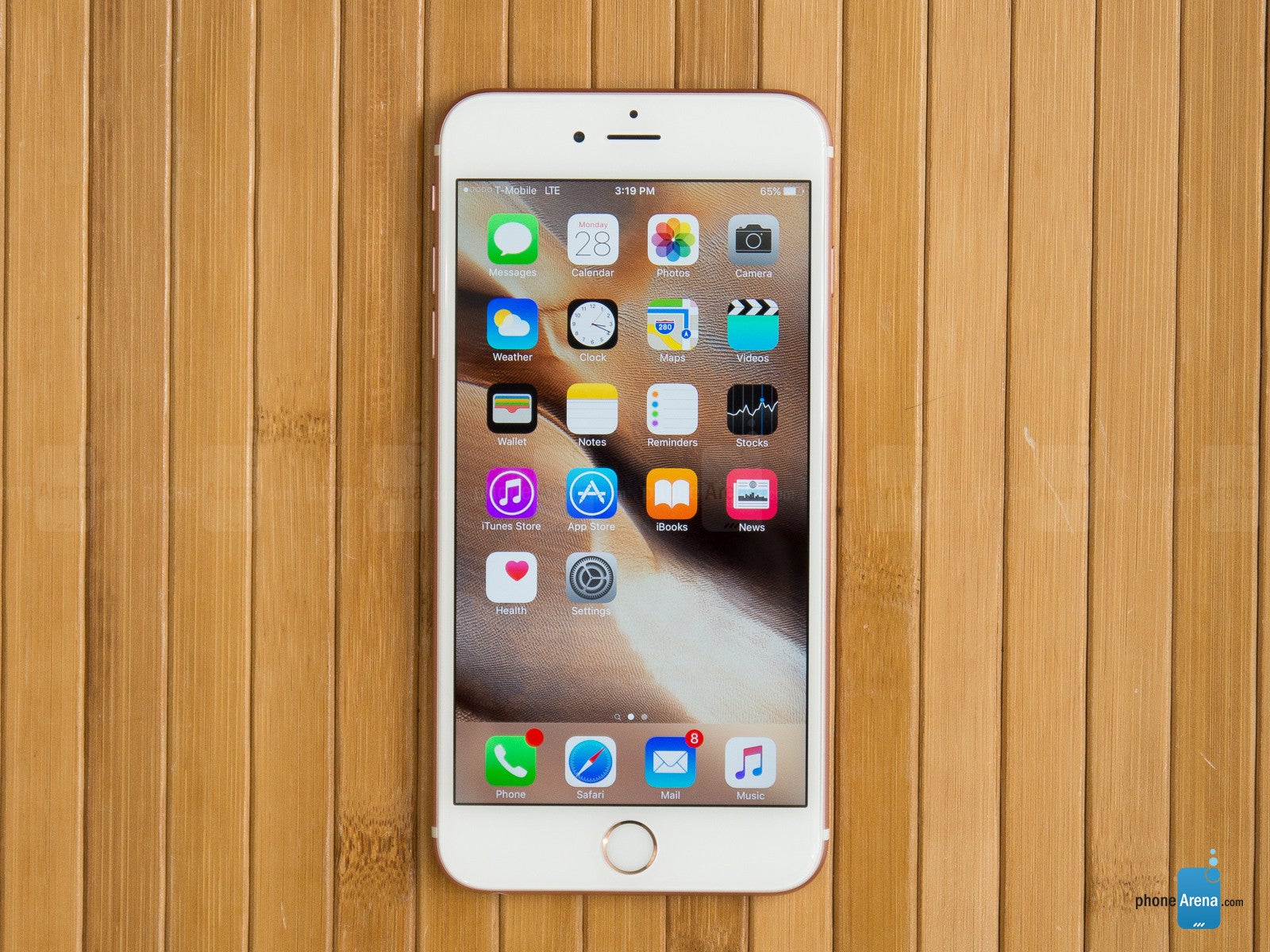 First and foremost, its shines even brighter than its predecessor with its 593 nit luminance, which is more that potent to make it visible under outdoor usage. Secondly, we see improvements to its gamma value and color temperature; while they're ever so small, they're nonetheless improvements that make this screen even more favorable. More specifically, we're presented with a 2.19 gamma value and 7018K color temperature, which are closer to the ideal reference values of 2.2 and 6500K than those of the 6 Plus. Its 7018K color temperature still gives it a slightly cooler tone, but it's well within our zone of tolerance.
Moving onto its accuracy under the sRGB color spectrum chart, the iPhone 6s Plus performs exquisitely by hitting most of the target value marks – giving its colors that true-to-life, realistic tone. It's not 100% accurate, but it's pretty close to achieving that. And it even manages to exhibit fantastic viewing angles as well, where there's barely any sort of distortion at varying angles.
3D Touch
Thus far, most manufacturers have mostly focused on improving smartphone displays by simply increasing their resolution. Apple doesn't seem to believe that this is the best step to take, as they've never been the type to boast about having the best of the best specs. Rather, they're introducing something very different in the form of 3D Touch.
Don't mistake this for BlackBerry's crummy SurePress technology; you know, that gimmicky clicking response with the BlackBerry Storm whenever the screen was pressed down on. Apple's interpretation of depth is far most comprehensive and practical, as it coughs up some new and inviting interactions that we haven't seen on a phone. Now, for those of you familiar with the Apple Watch's force touch feature, this is essentially the same technology at work.
Instead of dissecting all of the intricate tech that's behind it, we'll focus the review on its purpose. At the core of it all, 3D Touch is classified by Apple as the next generation of multi-touch – one that adds a new dimension of functionality to the mix. While the screen itself isn't physically manipulated to give off that illusion of tactility, it's instead achieved by the capacitive sensors on the display to measure microscopic changes in pressure. Adding to that, its all-new Taptic Engine vibration motor enhances the interaction by delivering timely and subtle taps to let us know how firm we're pressing.
It's genuinely different, something we haven't experienced before, and so it's going to be interesting to see how this new technology is pushed to other things beyond the native apps. Generally speaking, it makes it simple to access things, like a link embedded in an email, without entirely committing to jumping into that particular thing. Well, 3D Touch's primary functions boil down to these features below.
Peek and Pop:
It's the preview you've always craved. Employed in several of the native apps, it allows us to use 3D Touch to peek at a preview of something, like a hyperlink in an email or the body of an email in our inbox, instead of having to fully commit into launching that separate portal.
Quick Actions:
Using 3D Touch, we can press down on several of the icons in the homescreen for some quick actions. For example, we have options to take a selfie, record video, record slo-mo, and even snap a photo by pressing down on the camera icon. It saves a few steps in the process, which is useful.
Trackpad:
Sometimes it's a pain precisely trying to place the cursor into a specific spot when typing using the on-screen keyboard. With 3D Touch, however, it eliminates the frustration because we have a finer degree of control adjusting its placement using 3D Touch.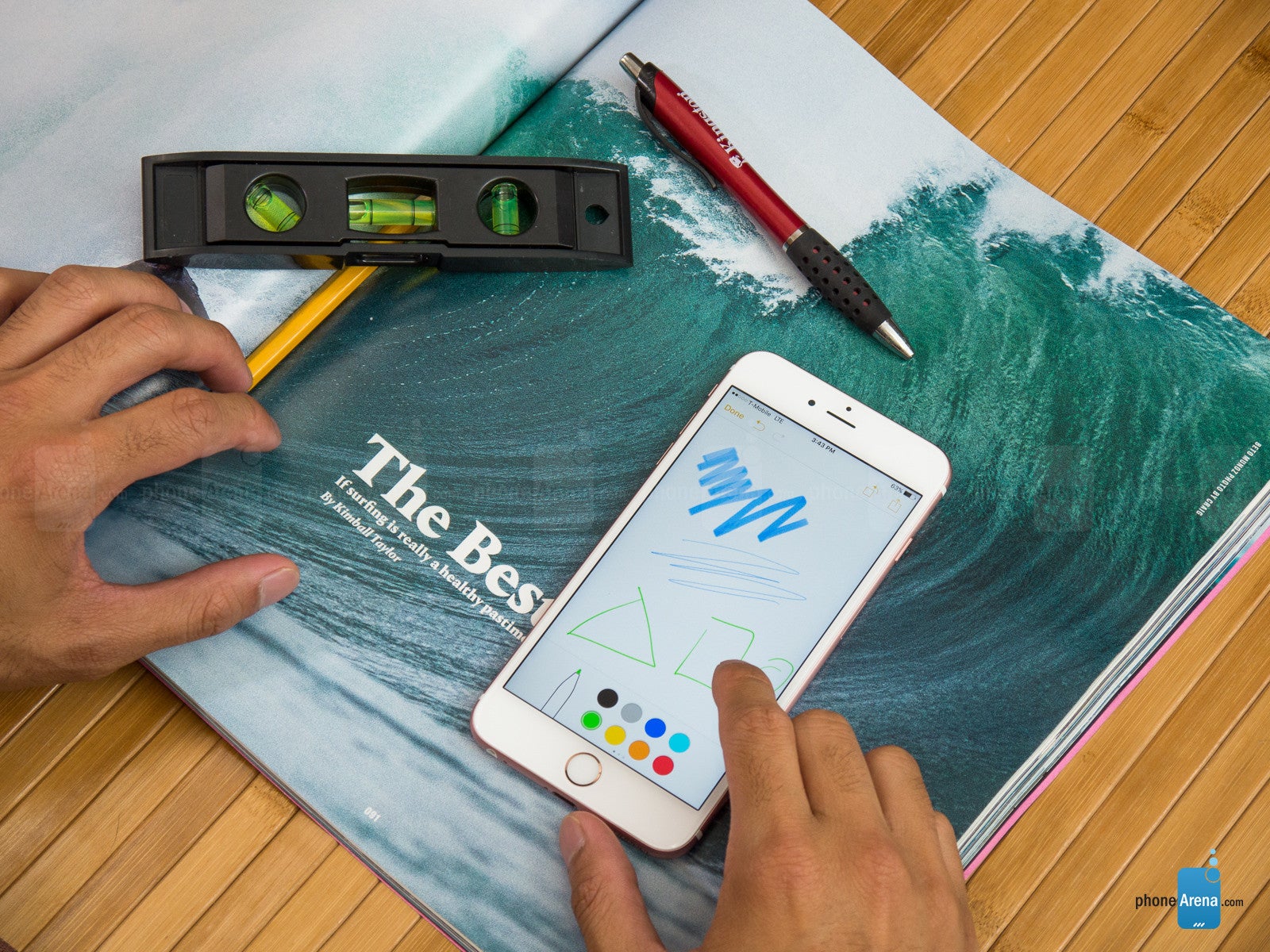 Multitask:
3D Touch can be used to switch between two apps or enter the multitasking menu. By pressing into the left side of the interface at any time, we get a quick peek into the multitasking view – where we can swipe all the way to get into the app.
Pressure sensitive drawing:
Using the updated Notes app, it similarly attempts to replicate Samsung's S Note app by providing us with a number to drawing tools – on top of the usual note taking functions. Using 3D Touch, it's able to register varying degrees of pressure to produce more solid lines using any of the drawing tools. However, the process isn't as seamless as using the S Pen, due to the degree of resistance when we're trying to glide on the screen with our finger or stylus.
Display measurements and quality
Recommended Stories