Microsoft Lumia 950 XL Review
92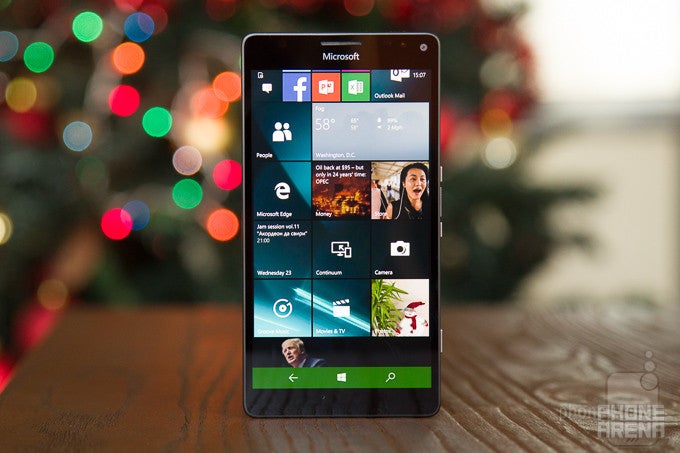 Introduction
After Windows Phone 8.1's release in April last year, the Lumia brand went undercover, as Microsoft released very few handsets and pondered what comes next for the operating system and its smartphone business. Fast forward to September 2015, though, and the Windows universe has been shaken by yet another Big Bang, for MS released the new Windows 10 on practically everything that has a computer and display in its assembly, from fitness-tracking wristbands all the way to smartphones, tablets, and laptops.
The launch of W10 on mobile was spearheaded by two all-new handsets, the 5.2-inch
Lumia 950
and the 5.7-inch
Lumia 950 XL
. The latter is a high-end phablet that's, without question, the most powerful Windows smartphone ever released. But there's an uneasy question casting its shadow over the 950 XL, despite its perceived aura of excellence emitted by a promising spec sheet, an ambitious camera setup, and the novelty of running Windows 10. Can this device gain back the mind and market share lost by the operating system during its year of restrained, sporadic activity? Find out in our review.
Design
An uninspired look and feel that isn't fit for a high-end smartphone in this day and age.
Let's get this out of the way — the Lumia 950 XL has to be the single most nondescript hi-end phablet released in 2015. Representing pure function over form, the handset has a conservative plastic body that's about as attractive as your entry-level Windows laptop nowadays. There are no decorations of any kind, which makes for a clean, but incredibly dull look. Upon a closer examination, we notice that the removable back panel won't attach itself fully in some places, and also gives in when pressure is applied. This is a cheap build that's out of line with what one may expect from a $600 smartphone.
Still, the phablet isn't completely design-unconscious, for it presents a decent screen-to-body ratio and feels reasonably comfortable in the palm. But the volume and power keys (placed right) have sharp corners, feel mushy, and are just bad. Moreover, the Lumia 950 XL is rather top-heavy, but on the upside, there's a dedicated camera shutter key, which will come in handy for avid photographers. And, just so you know, the phablet utilizes the new USB Type-C port, which solves the age-old problem of turning the connector to its right side, but means you must always keep a Type-C cable nearby, for microUSB connectors are incompatible.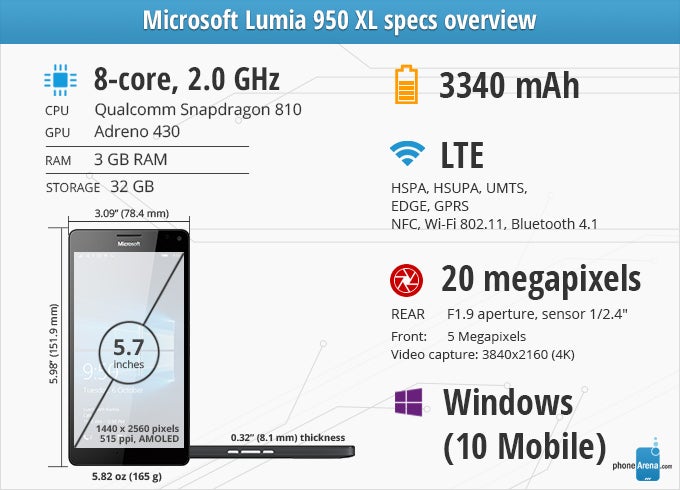 Display
The 950 XL's screen is big and nicely tuned, but disappointingly dim.
The Lumia 950 XL's 5.7-inch AMOLED display sure sounds impressive on paper, and what do you know, it actually does deliver the goods, save for one glaring flaw — at just 297 nits of maximum brightness, this is one dim screen that will make you squint your eyes under bright light! Otherwise, things are great for the most part. The 1440 x 2560 resolution is more than adequate for this diagonal, while the color temperature and gamma calibration at play result in pleasant, natural tones. The display isn't pin-point color accurate, but most shades and hues are quite close to their reference values. Moreover, you can choose between different color profiles, or adjust the picture completely to your liking. If there's something about the 950 XL's display that's not to your liking, tinker away!
Display measurements and quality
Recommended Stories