Samsung joins the dual-core onslaught with the Orion chipset
3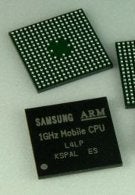 After Qualcomm and Texas Instruments, it was Samsung's turn to announce its own dual-core chipset for mobile devices. The system-on-a-chip (SoC) is codenamed Orion, it is based on the dual-core Cortex-A9 architecture from ARM, and will have the cores running at 1GHz. Samsung claims it will be 5 times faster in graphics rendering than its current Hummingbird, as found in the
Galaxy S and its US carrier versions
. Well, let's hope that having full Adobe Flash on our smartphones will come standard now, no performance excuses can be possible this time.
Last time we checked, the PowerVR SGX540 GPU in the Hummingbird chipset was theoretically capable of 90 million triangles per second. That puts the Orion GPU at 450 million, only a bit less than the Xbox 360's 500 million that the gaming console is currently offering, for example.
Apart from that amazing boost in graphics prowess, the Orion will offer what all the other
45nm dual-core SoCs like the latest Qualcomm Snapdragon, and TI's OMAP4 will
. Full HD video recording and decoding at 30fps, support for cameras up to 18MP, and support for up to three displays simultaneously - two on the device itself, and one external HDTV, for example, via HDMI-out. The Cortex-A9 chipsets also should deliver 30% reduction in power consumption, so all the goodies above will come in an even thriftier package that will further enhance battery life on mobile devices.
The other interesting thing about the Orion SoC is that it will have embedded interface support for various storage technologies - NAND flash, moviNAND, SSD or HDD providing both SATA, and eMMC interfaces. Thus the chipset can be used in netbooks and tablets with enhanced storage options as well. It has the audio and GPS chips included, but not the baseband connectivity, where Snapdragon has clear advantage - it is still A8 based, however .
Samsung's Orion chipset has already finished sampling and will be shipped to "select customers" in Q4 of this year, with Samsung ramping up production in the first half of 2011, which means we should have an Orion-based device next year - Galaxy S 2 anyone?
We wonder what those "select customers" are, besides Samsung itself of course, which uses the Hummingbird in the Galaxy S and
Galaxy Tab.
We currently have only one major player left to announce a dual-core chipset for its next generation of mobile devices - Apple. Considering that the Hummingbird and A4 are
developed by the same company
, and Samsung's traditional ties with Apple for the previous generations of iPhones, could we be seeing a dual-core iPhone next summer? It's a speculation, but we doubt that Steve Jobs will allow the company to be left in the dust in that respect, moreover it now owns Intrinsity,
the company behind the sizzling Hummingbird and A4 chipsets
.
source: Samsung