Mass-production of a key component for 5G Apple iPhone will start next year
6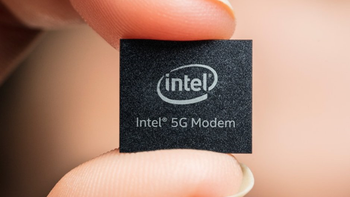 Since Apple is expected to use Intel's modem chips for its first batch of 5G compatible phones, we know not to expect 5G iPhones to be unveiled until 2020. That's because Intel won't have its modem chip for the next generation of wireless connectivity ready until next year.
According to Digitimes
, the chip maker will start work next quarter on the engineering projects it needs to finish in order to begin volume production of its 5G modem.
Apple currently has a contentious relationship with Qualcomm; over the last few months both sides have squared off in court on issues ranging from patent infringement to royalty payments. Just yesterday, one judge ruled that Qualcomm owed Apple close to a billion dollars in royalty payments it promised to rebate to the company (the actual figure is much. much higher says FOSS Patents). Meanwhile,
a jury in San Diego yesterday ordered Apple to pay Qualcomm $31 million
after it found Apple liable of infringing on a trio of patents. On March 26th, the International Trade Commission will rule on Qualcomm's request for an exclusion order to be imposed on the iPhone in the U.S. Such an order would result in a sales and import ban of certain iPhone models in the states.
Intel is now the exclusive source of modem chips for the iPhone

From 2011 to 2015, Qualcomm was the exclusive provider of modem chips for the iPhone. That changed in 2016 when both Qualcomm and Intel were responsible for the modems used on the iPhone. That continued in 2017, and last year Apple sourced all of the modem chips used on the latest iPhone models from Intel.
Apple is expected to be among the last major phone manufacturers to produce a 5G phone. Samsung has already unveiled its first 5G phone, which will debut on Verizon this summer. Huawei, LG and Oppo should also release 5G phones this year, and the 5G Moto Mod will allow the
Motorola Z3
to support the faster data speeds as soon as Verizon flips the switch to turn on its new service. Once 5G service becomes more mainstream and less a curiosity, the faster data speeds will allow new services and businesses to be created. With 5G, a television series that takes 10 minutes to 15 minutes to download over 4G, will take only seconds to complete the task.
When the industry transitioned from 3G to 4G LTE, Apple was one of the last major manufacturers to deliver a phone that supported the then-new technology. While a number of Android phones were launched with support for 4G LTE in 2011, Apple didn't release a 4G LTE enabled handset until 2012's
iPhone 5
.