Follow these directions to score a free Samsung Galaxy S9 from T-Mobile
3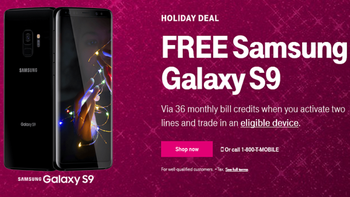 How would you like to pick up a free 64GB
Samsung Galaxy S9
? If you switch to T-Mobile, activate two lines and trade in an eligible handset, you will receive 36 monthly bill credits in the amount of $20 that will cover your purchase of the Galaxy S9. You might have to lay out the $20 for two months before the bill credits start kicking in. Current T-Mobile subscribers can partake in the deal if they add an additional line and trade in one of the eligible handsets. Tax on the Galaxy S9 is due at the time of sale.
As we said, part of the deal requires trading in an eligible device. The trade must be in good condition and includes the following models:
This is a limited time holiday deal only, so if you are interested in snagging a free Samsung Galaxy S9 from T-Mobile, you might not want to procrastinate until it is too late.