HTC U11 first promo videos are out, watch them here
4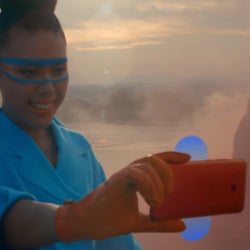 So, the HTC U11 is finally official, and it's a beautiful piece of glossy, deeply reflective hardware. As expected, the new phone carried on and evolved the design language of the HTC U Ultra to become one of 2017's shiniest flagships.
But the new handset is not just flair — it has top-notch hardware under the hood, and all the features you'd expect from a top-shelf mobile device on 2017, including a couple of unique ones. The most notable feature is the "squeeze", which works like a shortcut button, which can be customized by the user.
As with all new phone launches, HTC wants you to know how awesome the U11 is, so it released its first 3 promo videos to the world. The first one gives us a quick look at all 5 colors the shiny device comes in and the second and third focus mainly on the "squeeze" features, trying to show us how easy and natural it is to use.
Worth noting — despite the fact that the second video shows us a person diving in water with their HTC U11, the company did say it doesn't recommend you try and push the handset's water-resistance limits. We'd like to add that skateboarding and taking selfies at the same time is probably a dangerous practice as well.