Google Maps will now provide users in 15 new European countries with accurate lane guidance
3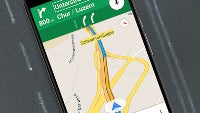 Earlier today, we told you about all the great things that arrived in
Nokia's HERE maps for Android
(which is no longer in beta, by the way), and it was certainly not the sole update that hit the app over
the past few days
. Meanwhile, in Google Maps' camp, things have been quite dynamic as well. First, Google Maps scored a Local Guide feature, but was definitely not everything that Google has obviously been working on.
The app has just been enriched with lane guidance for a handful of European countries, namely Austria, Belgium, Bulgaria, Czech Republic, Denmark, Finland, Greece, Hungary, Liechtenstein, Luxembourg, Netherlands, Norway, Portugal, Sweden, and Switzerland. Lane guidance, if you don't know, gives you a much more correct turn-by-turn navigation on complex, multi-lane roads.
We can't be more thankful for this rivalry that makes both HERE and Google Maps better and more feature-packed. The party that benefits the most from this is, of course, the Android user base.