HERE Maps on Android and Windows Phone receives a worldwide feature-packed map update
15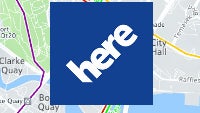 Nokia's
HERE Maps
are already shaping up to be one of the main rivals to Google Maps. With each and every update, Nokia's navigation solution landed on Google Play late in 2014, allowing Android fans to benefit from free, turn-by-turn offline navigation. It was just announced that a pretty extensive map update is poised to hit HERE Maps on both Android and Windows Phone.
The update brings many improvements that further make the navigation app even better. As a refresher, HERE Maps is not currently available on iOS.
For starters, HERE Maps now comes with numerous improvements and enhancements to turn-by-turn navigation, which is now available in a handful of new locations around the globe. More in-depth information about public transportation is a part of the equation as well.
The updated versions of the app both come with improved "water features". What does this mean, exactly? The app will provide you with way more accurate representation of inland ponds, lakes, and rivers, for example, which is more than welcome. General improvements and map updates are also part of the changelog. Almost all regional maps have been updated, too.
The map update for both the Android and Windows Phone versions of the app should arrive to your device shortly.
Recommended Stories