Canadian couple abroad had to destroy their Note 7 phones to get home, files class action lawsuit against Samsung
32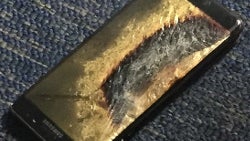 Alright, the
Galaxy Note 7
fiasco is almost over. Samsung has recalled all of the units and issued a software update that
limits active phones' batteries
to a 60% charge to incite people that haven't returned theirs yet to do so. On top of that, the company is posting apology after apology — a string, which culminated in a
full-page remorseful letter to its customers
, posted in some newspapers yesterday.
But forgiveness is not easily given, it seems. Canadian law firm McKenzie Lake Lawyers LLP has filed a class action lawsuit against Samsung's Canadian and US divisions. The claim states that Samsung was negligent and should have been aware of the dangers its device poses.
The lawsuit represents Canadian buyers of the Note 7. Should its allegations be proven in court, the claimants will seek compensation in damages and will require Samsung to issue an official statement, admitting that its actions during the distribution and later recall of the Note 7 were inadequate and that the company attempted to mislead customers and hide information.
The plaintiffs that initiated the class action were Hannah Shaheen and Daniel Fuller. The couple was returning from a honeymoon with their brand-new Note 7 phones when they were informed by airport authorities that they can't bring the phones on board a plane due to the
airplane ban
, which was issued earlier. As a result, the two customers were forced to destroy and discard their devices in order to be able to return home. The company has not compensated them in any way, the couple said.