Samsung Galaxy Note 7 Review
99+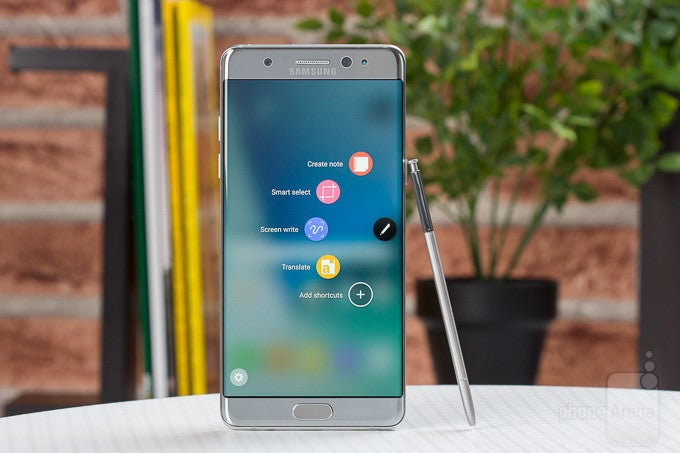 The Samsung Galaxy Note 7 has been discontinued following numerous reports of units catching fire or exploding. In the interest of safety, users who still have a Note 7 in their possession must return the unit to Samsung.
Update:

Read our Galaxy Note 8 review!
Introduction
I don't know how hard it is to build a great smartphone, but market intelligence shows that most companies are failing, so it's got to be pretty hard out there. Samsung, however, is among the very few that have found great success in this business. The company's approach is an elaborate mix of high-powered, in-house produced hardware, multi-layered software that is constantly being rethought and reworked, and resilient marketing efforts, all coming together in progressively likeable products.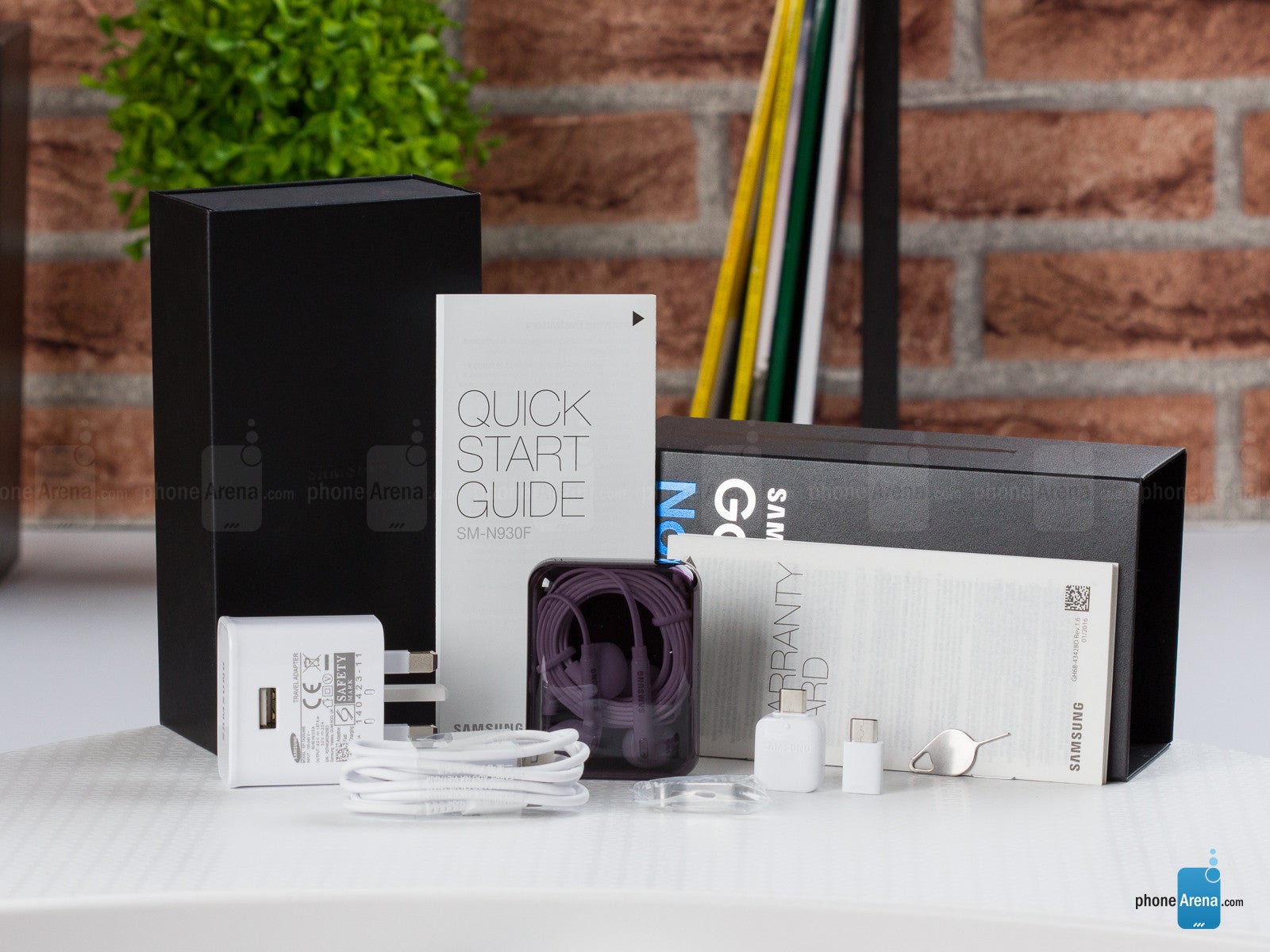 While the popular Galaxy S smartphone line is the face of Samsung's mobile business, the company's super-sized Note series has also managed to solidify its presence in the space. Starting out as a bold experiment in 2011, the Galaxy Note devices have improved over the years, proving that yes, there are quite a few people out there who'd love a gigantic screen on their phones. This eventually inspired most of Samsung's competitors, including rival Apple, to also explore the depths of this so-called "phablet" market.
After an unusually lousy 2015, Samsung has returned stronger than ever, it seems, with the successful launch of the
Galaxy S7
and
S7 edge
smartphones earlier this year. Now, still riding on that momentum, Samsung is eager to also unleash its new
Note 7
– granting it an early start against Apple's upcoming Plus model...
Wait, what? Why Note 7 and not Note 6? Easy: This year, Samsung is willing to align its S and Note lines better, so it's missing the "Note 6" and jumping straight to calling it Note 7. But, if this is going to give you peace of mind, if we count the
Note Edge
, then the Note 7 is actually the seventh Note in the series, so the name is indeed fitting.


Design
Samsung's design language translates very well to the phablet from-factor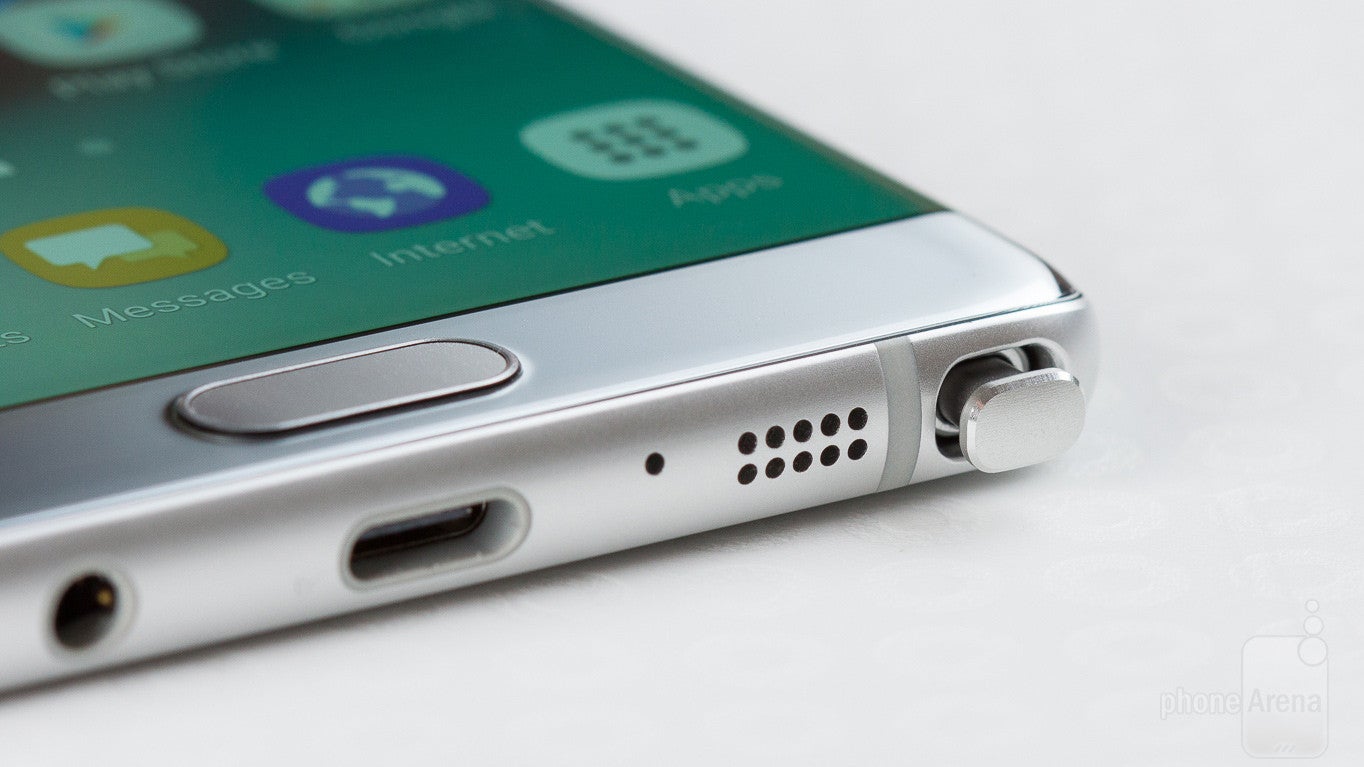 Samsung is moving fast these days. After it showcased its new glass design language for the first time last year with the S6, it has continued to refine it. First, by introducing gentle curves to the rear glass with the Note 5, and now, by making it more symmetrical all-around with the Note 7.
Viewed from the side, the Note 7 has the same exact curves and shapes towards the front and the rear, which is very aesthetically pleasing. Unfortunately, Samsung's promise for a balanced, symmetrical design isn't completely fulfilled, as the handset's top bezel is ever so slightly taller than the bottom one. Maybe this will be perfected in the next generation, maybe not. And not to avoid the obvious comparisons with the Galaxy S7 edge, here are the differences: the Note 7 is slightly (but noticeably) wider and taller, with a less pronounced screen curve, which we actually prefer.
That said, I find the Samsung Galaxy Note 7 to be a very attractive phone overall. Available in 4 shiny colors – light gray, black, gold, and the brand new blue/orange – there's hardly a variant of it that doesn't look fancy. That's especially true for the new two-tone one, called Blue Coral, which combines front and rear glass in light blue with a metal frame in soft orange. Samsung is willing to have a little fun and experiment with color schemes that happen to be out of the norm, and that's a great thing.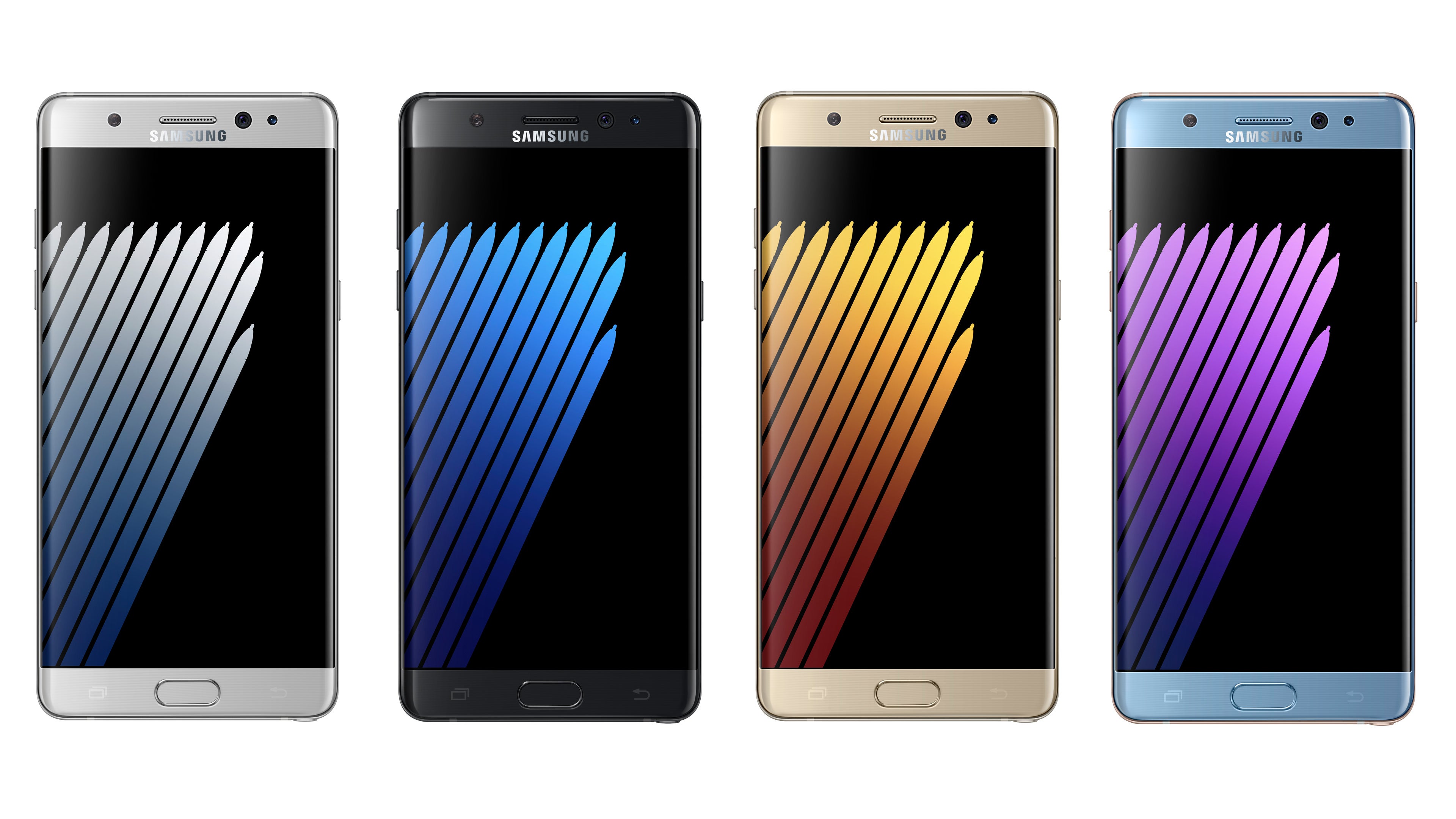 Just as its predecessor, the Galaxy Note 7 has the same highly reflective, mirror glass finish that is all nice and shiny, but can quickly get messy due to fingerprints sticking like crazy. To me, that's not a big problem, because I like the unslippery nature of glossy surfaces – it makes the Note 7 easy to handle.
And speaking of handling, the soft, rounded nature of the Galaxy Note 7 definitely helps in terms of perceived dimensions and convenience. However, this is not a phone to be used one-handed, that's for sure. It is definitely on the clunkier side. In fact, it almost slipped out of my pocket once while I was driving, so… yeah, be sure to have some really deep pockets on your clothes, or bring a bag to carry the Note 7 in.
In terms of overall quality of execution, the Note 7 inspires confidence. It's not obsessive, in a way that would see different buttons, speaker grilles, mics and other holes and elements around the metal frame aligned perfectly, but it does feel nice and solid. The volume and power keys are a tad soft when pressed, but not to an annoying extent. The "hidden" capacitive multitasking and back keys surrounding the home button can cause some annoyance at times upon being accidentally pressed, but I do prefer this solution to on-screen navigation keys, as it doesn't needlessly take up screen space.
A nice thing to know here is that the Note 7's massive display is protected by Gorilla Glass 5 – the latest and greatest product from Corning, which is designed to withstand drops from the impressive 5.2 feet (1.6 meters). According to specification, the glass should resist cracking even if you drop the phone onto hard, rough surfaces. However, do keep in mind Corning says Gorilla Glass 5 is estimated to survive such drops in up to 80% of the time, which doesn't sound particularly encouraging. Hopefully, survival rates will be much better with lower drops (5.2 feet is quite high, after all). Samsung has confirmed that the Galaxy Note 7's back panel is also made from Gorilla Glass 5 – no corner-cutting here. And, just to be sure: please do not mistake this glass for something like Moto's ShatterShield, which is indeed designed to NOT crack, almost no matter how you drop it.
Now, before we continue, there's one other feature we need to talk about, and that's water resistance. This feature returned for the Galaxy S7 series (after being absent from the S6), and thankfully, the manufacturer has found a way to implement it with the Galaxy Note 7 as well. Both the phone itself and the S Pen stylus are IP68 certified, so even if you have the imprudence to drop the Note 7 in up to 5 feet (1.5 m) of water and leave it there for up to 30 minutes, it's likely to survive. Even if you don't go swimming with your phone, the peace of mind is appreciated.
Display
Big, bright, and colorful, the Note 7's AMOLED screen is great for media and reading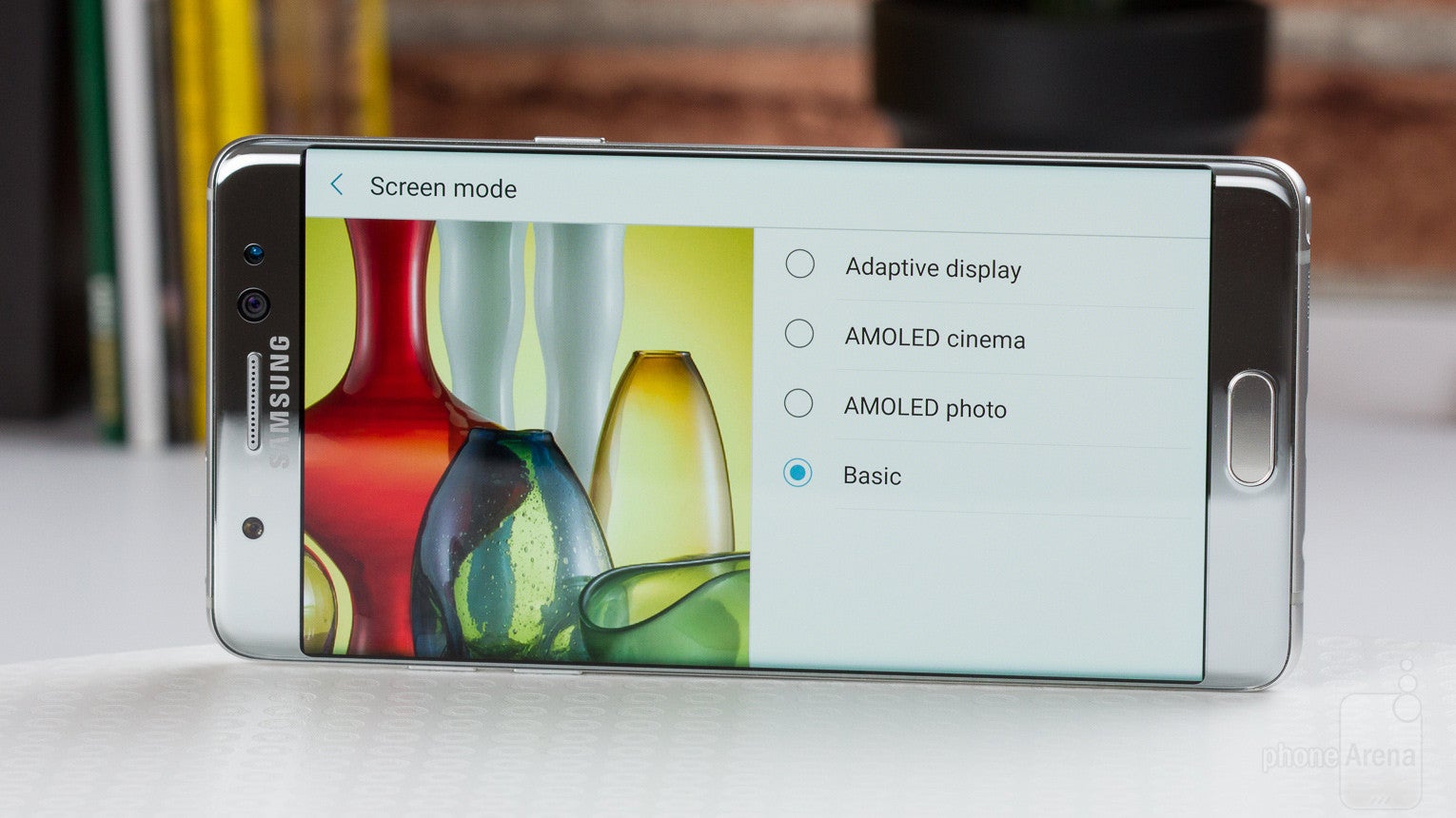 The situation is complex when it comes to color quality with the Note 7's AMOLED display. Numbers-wise, all is top-notch: the screen is 5.7 inches big (albeit slightly curved towards both edges), the resolution is incredibly high at 1440 x 2560 pixels, so things are pretty much perfect in terms of clarity, but there are some important issues to consider.
We tested two units of the Galaxy Note 7: one was the international version with the Exynos 8890 chipset, and the other was the US version with the Snapdragon 820. The trouble is the two units show considerably different color characteristics. The US version exhibits almost spot-on color balance – it can deliver accurate and authentic colors. Our international unit, however, suffers from undersaturated red, ending up looking cold and greenish. This difference remains as we switch through the different display color modes. We can't be sure if that is the case with all units out there, but judging from past experience, it probably is.
As always, there's a number of color modes to choose from, here's a breakdown:
1. Adaptive
: Attempts to optimize screen characteristics depending on the content that you're viewing. Typically, colors are way too saturated in this mode, so we wouldn't recommend using it.
2. AMOLED Cinema
: Sets the Note 7's screen to the DCI-P3 color space, which is wider than traditional sRGB. It's recommended for HDR10 video playback, but more on that in the Multimedia part.
3. AMOLED Photo
: Sets the Note 7 to the Adobe RGB color space.
4. Basic
: Sets the Note 7's display to the standard sRGB color space, which should be used in, like, 99% of the time.
Aside from the color balance inconsistencies we mentioned above, it's also worth noting that the gamma for both the US and the international phones is measured at close to 2.0, causing the screen to appear slightly washed out. To summarize, should you get the US model, color balance and overall authenticity (if you use Basic screen mode) will be top-notch. The international model, however, leaves something to be desired.
Display measurements and quality