Chinese customers outraged after Samsung execs kneeled to apologize for the Galaxy Note 7 fiasco
55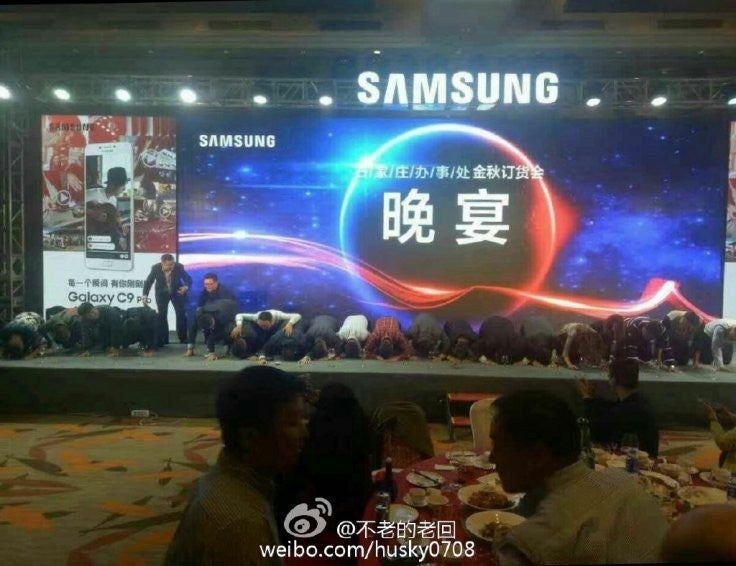 The
Galaxy Note 7
fiasco will cost Samsung quite a lot, but on the long term it might not affect the company if the next flagship smartphones, the Galaxy S8 will be flawless. In the meantime, Samsung still has to convince all Galaxy Note 7 owners to return their units, and there are more than 1 million left on the market.
However, there are many
loyal customers
who will continue to use Samsung's smartphones despite the issues with the Galaxy Note 7. For example, in China, many Samsung retail partners and distributors have decided to continue to support the brand.
In return, Samsung held an event in a Chinese city where many of the local distributors were invited. Furthermore, in order to thank these retailers for their continuing support of the brand, all Samsung execs present at the event, as well as all other members of the staff kneeled on the stage in front of the audience.
This was regional stock ordering event for distributors, PR had no knowledge of it beforehand. As we understand it, despite the influence of the Galaxy Note 7 explosions, distributors continued to support Samsung, and booked many orders at the event. This was extremely touching for Samsung's top executives, and in accordance their customs they kneeled to express gratitude towards these distributors. Samsung's China executives were also moved, and they kneeled too
.
Unfortunately, kneeling in China is not a good custom and it's only allowed under certain circumstances. So, it's no surprise that many customers in China have decided to withdraw their loyalty for the South Korean handset maker.
According to an English-language media outlet, "
a Chinese will kneel down before a god to beg for a blessing or express his or her gratitude to the god for a wish that has been fulfilled. They may kneel before their parents on special occasions.
"
Chinese customers claim that Chinese executives that kneeled in front of the local distributors are not responsible for the
Galaxy Note 7
, so they shouldn't have done that. The same Chinese media outlet describes kneeling as a practice coming from the feudal society, so it can only be used in certain circumstances.
They will also go on their knees when they are desperate, if someone is pointing a gun at them, for example, and they are begging for mercy for their loved ones, or a person might kneel and beg for a bowl of rice if they are starving.