All Samsung Galaxy Note 7 smartphones to be banned on U.S. airline flights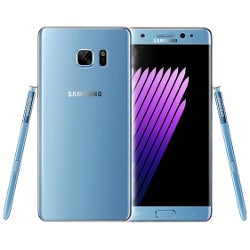 Citing a person familiar with the decision, Bloomberg reports that the U.S. authorities will ban all Samsung Galaxy Note 7 smartphones, powered off or not, from airline flights. Flight restrictions are extended to all 1.9 million Note 7 units sold in the United States, and the devices cannot be carried aboard aircraft at all. The decision will be formally announced by the Pipeline and Hazardous Materials Safety Administration and the Federal Aviation Administration soon.
Samsung has already halted production of the device, whose problems with exploding batteries have been tied to hardware design defects such as an improperly optimized chipset handling the battery's fast charging feature. Owners of the Note 7 are urged to return it in exchange for another high-end smartphone or a refund.
While nothing is stopping those keen on holding onto the phablet from doing so, restrictions such as the one about to be imposed will make life with it harder for frequent flyers. Of course, the risk of fire hazard is an even greater inconvenience to deal with, hence returning the Note 7 is the most sensible thing to do.
Unfortunately, owners of other recent Samsung smartphones, such as the
Galaxy S7 edge
might face travelling hassles too, as the devices have a similar look and not all personnel will be fully aware that only the Note 7 is banned from flights, as opposed to, say, all "Samsung Galaxy phones" or "Samsung 7 phones" or whatever happens to be the misunderstanding. Still, proving that you aren't carrying a Galaxy Note 7 instead of an S7 or S7
edge
shouldn't be too problematic.
ALSO READ