BlackBerry KeyOne vs Apple iPhone 7 Plus vs Samsung Galaxy S7 Edge vs others: size comparison
7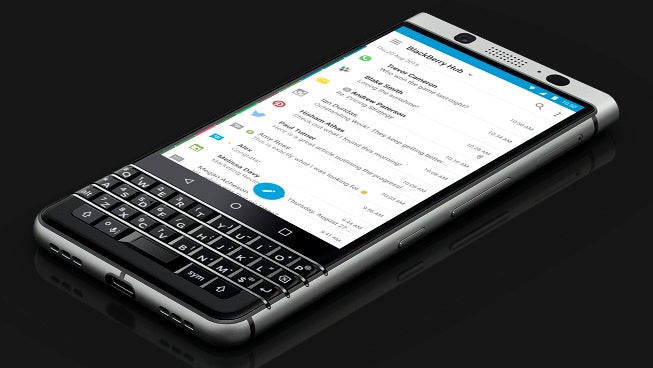 BlackBerry KEYone
The BlackBerry KeyOne is now official and it's a rare breed: a phone with a full QWERTY physical keyboard, it stands out in the Android phone crowd. But how does that keyboard right below the main display affect the actual physical size of the device? After all, if it was not for it, the KeyOne is a phone with a 4.5-inch display, a tiny phone by today's standards.
There are two important things here: first, it's the screen aspect ratio, as this is a wider than usual display, so the phone is not as narrow as a regular 16:9 4.5" phone, while the other thing is, of course, the keyboard factor.
As big as a Galaxy S7 Edge, but thicker and heavier
Luckily, the keyboard does not make the KeyOne outrageously large. The phone's exact dimensions are 149.3 x 72.5 x 9.4 mm, which makes it about as tall and wide as a Samsung Galaxy S7 Edge. The BlackBerry KeyOne, however, is much thicker than most modern smartphones at 9.4 mm (0.37 inches). The iPhone 7 Plus in comparison measures just 7.3mm thick, while the Galaxy S7 has a 7.9mm thickness.




The other interesting thing is that the BlackBerry KeyOne is one of the heavier phones around: 180 g (6.35 oz) of weight on it is still less than the 188 g of the iPhone 7 Plus, but the phone is heavier than the 157 g Galaxy S7 Edge. For this and all other details, just check out our neat size comparison visualization, patting the KeyOne against phones big and small, from iPhones to Galaxies and LGs.



BlackBerry KeyOne vs big phones: the full QWERTY effect on size
You can see that the BlackBerry KeyOne is approximately the same size as the Galaxy S7 Edge, and it's smaller than most of the bigger, phablet-sized phones on the market currently.
BlackBerry KeyOne vs iPhone 7, Galaxy S7, LG G5
At the same time, the KeyOne is practically as big as the LG G5, and noticeably larger than the Galaxy S7 and iPhone 7.