Clash of the nostalgia-jerkers: BlackBerry KeyOne vs Nokia 6 specs comparison
4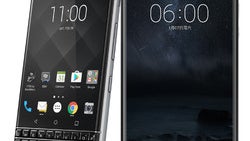 This year, we saw the return of the Nokia-branded smartphones — designed and made by HMD Global, the Nokia 6 is the first of a new line of Nokia handsets. And, naturally, it has phone enthusiasts' ears perked up. The good-old Nokia certainly left people with fond memories... that was before the company's mobile division was bought by Microsoft and utilized in a way that was less than successful.
We also get the resurrection of BlackBerry — the company hasn't been gone from the phone market for long, per se, as its last major release was the DTEK60 a flagship-class Android smartphone. However, with its release, the company did announce that it will stop developing smartphones. Turns out, BlackBerry licensed its brand and software suite for use by TCL — the company that will continue building the phones. The first product to come from that partnership is the BlackBerry KeyOne.
So, we've got two jurassic brands with a bit of new hope injected in them. Let's put their very virst products side by side!
Scratch-resistant glass, Ambient light sensor, Proximity sensor
Scratch-resistant glass, Ambient light sensor, Proximity sensor
Qualcomm Snapdragon 430 8937
Qualcomm Snapdragon 625 8953 (14 nm)
Octa-core, 1400 MHz, ARM Cortex-A53, 64-bit
Octa-core, 2000 MHz, ARM Cortex-A53, 64-bit
Android (9.0 Pie, 8.1 Oreo, 8.0 Oreo, 7.1 Nougat)
Android (8.1 Oreo, 8.0 Oreo, 7.1 Nougat)
Fast charging
Qualcomm Quick Charge 3.0
18.00 hours
the

average

is 0 h (0 min)
32.0 days (768 hours)
the

average

is 0 days (0 h)
Single camera
Single camera
12 MP (PDAF, CMOS image sensor, BSI sensor)
Aperture size: F2.0; Pixel size: 1 μm
Aperture size: F2.0; Focal length: 25 mm; Sensor size: 1/2.3"; Pixel size: 1.55 μm
1920x1080 (Full HD) (30 fps)
3840x2160 (4K UHD) (30 fps), 1920x1080 (Full HD) (30 fps)
Video calling, Video sharing
Continuous autofocus, EIS, Video calling, Video sharing
8 MP
8 MP
1920x1080 (Full HD)
1920x1080 (Full HD) (30 fps)
6.06 x 2.98 x 0.33 inches (154 x 75.8 x 8.4 mm)
5.87 x 2.85 x 0.37 inches (149.1 x 72.4 x 9.4 mm)
5.96 oz (169.0 g)
the

average

is 6 oz (171 g)
6.35 oz (180.0 g)
the

average

is 6 oz (171 g)
Back: Aluminum
Frame: Aluminum
Fingerprint (touch)
Fingerprint (touch)
Touch sensitive control keys
Full keyboard, Touch sensitive control keys, Notification light