The new vs the old: BlackBerry KeyOne vs Priv vs Passport specs comparison
7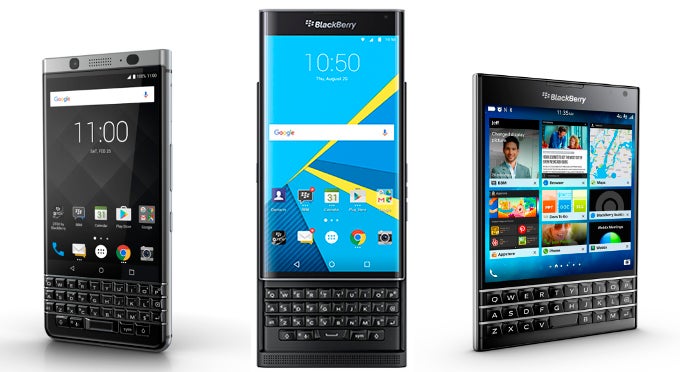 So, the
BlackBerry KeyOne
has been announced to the delight of loyal fans. Well, the phone itself is
developed and built by TCL
, but BlackBerry still provides the software suite, services, and security, along with its name of course. So, it's a new age for BlackBerry phones — first hinted at by the introduction of the Priv, the hardware keyboard-equipped business-class devices no longer run on the dying BlackBerry OS, but come with Android on board.
We thought it would be neat to take a look back at what are now the last two major, keyboard-sporting phones, made by BlackBerry itself, and compare them to this new whippersnapper. You can check them out in the three-way table below.
The KeyOne is definitely a midranger under the hood, but thankfully has a lot going for it as an overall package.
Scratch-resistant glass, Ambient light sensor, Proximity sensor
Scratch-resistant glass, Ambient light sensor, Proximity sensor
Scratch-resistant glass, Ambient light sensor, Proximity sensor
Qualcomm Snapdragon 801 MSM8974-AA (28 nm)
Qualcomm Snapdragon 808 MSM8992
Qualcomm Snapdragon 625 8953 (14 nm)
Quad-core, 2200 MHz, Krait 400, 32-bit
Hexa-core, 1800 MHz, ARM Cortex-A57 and ARM Cortex-A53, 64-bit
Octa-core, 2000 MHz, ARM Cortex-A53, 64-bit
Adreno 330
Adreno 418
Adreno 506
BlackBerry (10.3, 10)
Android (6.0 Marshmallow, 5.1 Lollipop)
Android (8.1 Oreo, 8.0 Oreo, 7.1 Nougat)
Qualcomm Quick Charge 2.0
Qualcomm Quick Charge 3.0
18.00 hours
the

average

is 3 h (180 min)
18.0 days (432 hours)
the

average

is 3 days (72 h)
23.00 hours
the

average

is 0 h (0 min)
18.5 days (444 hours)
the

average

is 0 days (0 h)
Single camera
Single camera
Single camera
13 MP (OIS, Autofocus, BSI sensor)
12 MP (PDAF, CMOS image sensor, BSI sensor)
Aperture size: F2.0; Focal length: 30 mm
Aperture size: F2.2
Aperture size: F2.0; Focal length: 25 mm; Sensor size: 1/2.3"; Pixel size: 1.55 μm
1920x1080 (Full HD) (60 fps)
3840x2160 (4K UHD) (30 fps), 1920x1080 (Full HD) (60 fps)
3840x2160 (4K UHD) (30 fps), 1920x1080 (Full HD) (30 fps)
OIS, Continuous autofocus, Video calling
OIS, Continuous autofocus, Video calling, Video sharing
Continuous autofocus, EIS, Video calling, Video sharing
2 MP
2 MP
8 MP
1280x720 (HD)
1280x720 (HD)
1920x1080 (Full HD) (30 fps)
5.04 x 3.56 x 0.37 inches (128 x 90.3 x 9.3 mm)
5.79 x 3.04 x 0.37 inches (147 x 77.2 x 9.4 mm)
5.87 x 2.85 x 0.37 inches (149.1 x 72.4 x 9.4 mm)
6.91 oz (196.0 g)
the

average

is 5.7 oz (162 g)
6.77 oz (192.0 g)
the

average

is 5.7 oz (162 g)
6.35 oz (180.0 g)
the

average

is 5.7 oz (162 g)
Back: Plastic; Frame: Metal
Frame: Aluminum
Notification light, Full keyboard
Notification light, Full keyboard
Full keyboard, Touch sensitive control keys, Notification light
Recommended Stories