BlackBerry India's Managing Director explains the company's four part plan for survival
5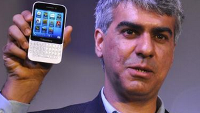 In a recent interview with an Indian publication that focuses on business, the Managing Director of BlackBerry India, Sunil Lalvani, revealed the troubled OEM's four part plan for survival. Coming off a year that started with much hope, BlackBerry
found itself deep in the red by the time 2013 finished
, thanks to massive write-offs of BlackBerry 10 phones that were collecting dust in the warehouse. Before the ball dropped in Times Square signifying the end of 2013, the Canadian OEM
had a new CEO
,
a five year deal with Foxconn
to design and produce low-end handsets, and $3 billion of cash on its balance sheet.
Lalvani says that BlackBerry has a four part plan. Part 1 deals with BES 10, the company's successful mobile device management service. The manufacturer continues to add users here, and luckily for BlackBerry, when it moved from BES to BES 10, it added support for iOS and Android devices. Lalvani says that soon, BES 10 will add Windows Phone to the platforms it serves. The service allows IT managers to control employees' devices that they bring to work and hook them up to the mail system. BES 10 can also lock down cameras on connected phones during business hours, and remotely wipe a lost or stolen handset.
The second part of the plan is to offer BES 10 to small and medium businesses in India as a cloud service. According to Lalvani, India has the second most small and medium enterprises after China. So far,Indian companies are responsible for 2000 BES 10 installations out of the 80,000 companies and government agencies that are using the service worldwide.
BlackBerry has already started with the third part of its plan, which is to get BBM on as many handsets as possible. BBM for iOS and BBM for Android
were both a success in terms of the number of people who installed the messaging service
on their phone. Now, it is up to BlackBerry to "Trojan Horse" and monetize it. One way it might do this is with BlackBerry Channels, which has
recently been added to a beta version of the Android version of BBM
. Channels consists of discussion groups that BBM users can start and populate, BlackBerry believes that it can get paid by corporations who want to reach the tens of millions of BBM users with branded content.
The last part of the plan calls for BlackBerry to lower the cost of its new BlackBerry 10 devices with a focus on the emerging markets. These low end handsets are the ones that Foxconn will be taking care of for the next five years. The first of these phones to be delivered is expected to be one with the code name Jakarta. This is an
all-touch, BlackBerry 10 model
originally targeted for Indonesia. Also, in India BlackBerry recently
cut the price of its QWERTY equipped BlackBerry Q5
to 19,900 INR ($319 USD) from 25,000 INR ($401USD).
The Managing Director has pointed out that while in past years, 65% of its sales came from Devices. Now, BlackBerry gets 65% of revenue from Software and Services, and only 35% from Devices. Will this shift help BlackBerry succeed with its four pronged attack on the market? We should know the answer by this time next year.
source:
EconomicTimes
via
BerryReview