Apple iPhone 7 once again rumored to include Intel modem chip
38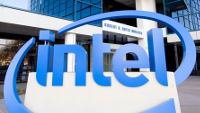 If you believe that when a rumor is repeated often enough it comes true, than you should know that this is the fourth time that we have passed along the rumor that Apple will use an Intel modem chip for the
Apple iPhone 7
. Today's report says that Intel will be responsible for 50% of the chips. The remaining 50% of the chips will most likely be sourced from Apple's current supplier of modem chips, Qualcomm. The rumor gained some credence last month when Qualcomm CEO Steve Mollenkopf said that his company would be losing one of its modem clients, which is rumored to be Apple.
According to the rumor, Intel will package its modem chips, but will leave the manufacturing to TSMC and King Yuan Electronics. Reports that an Intel modem chip would be found inside the Apple iPhone 7, go back as far as last October. That is when there was talk that the Qualcomm 9X45 LTE chip found inside the
Apple iPhone 6s
and
Apple iPhone 6s Plus,
will be replaced by the Intel 7360 LTE modem
.
Last year, Apple reportedly sent an engineering team to Munich, where the Intel 7360 LTE modem was created, to optimize the chip for the next iteration of the iPhone. The Intel 7360 LTE modem chip supports Cat.10 data speeds which means data is transferred as fast as 450Mbps on the downlink, and 100Mbps on the uplink.
The Apple iPhone 7 is expected to be unveiled this coming September. The latest buzz has the phone
starting mass production at contract manufacturers Pegatron and Foxconn
. Reportedly,
100% of the Apple A10 chipset that will be employed on the iPhone 7 series will be manufactured by TSMC
.
source:
Digitimes