Apple iPhone 5S camera spotted and more interesting details about plastic iPhone 5C
38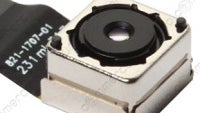 The affordable iPhone 5C has
surfaced time
and
time again
, and just last week the supposed camera for Apple's new plastic and more affordable iPhone leaked out. That was big news as the image hinted the new plastic iPhone could have a
great camera, similar to the one in the iPhone 5
. Now, a week later, it turns out that the image that surfaced last week might have been wrongly referred to the iPhone 5C and instead be the camera for the iPhone 5S.
Why do we think so? After first leaking out on Chinese microblog Weibo, the camera module now surfaces in a much clearer picture on inventory seller Luna Commerce and this time it is labelled
"APPLE IPHONE 5S REAR CAMERA ORIGINAL NEW."
What does this mean? The first thing that comes to mind is that now it turns out we don't really know much about the camera on the iPhone 5C. The plastic iPhone is expected supporting a single LED flash, while we have seen images of the
iPhone 5S using a dual-LED flash
.
Here's where it gets interesting. The flash module on the latest leaked images seems to be completely detached and independent from the camera module. This could be interpreted as a hint that online retailer Luna Commerce is spot on and the images are indeed of the iPhone 5S camera. Moreover, all parts pictured below carry the official Apple part numbers starting with "821", nearly confirming their authenticity.
Ultimately, this means the plastic iPhone 5C and the aluminum iPhone 5S will after all differ on the inside. Apple is said to have ramped up production of the two devices full throttle ahead of an official announcement coming sometime in September.
source:
Luna Commerce
via
Nowhereelse