Apple iPhone 5C camera module: 8-megapixel camera like in iPhone 5?
7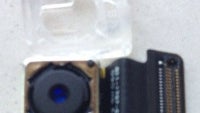 A supposed image of the camera module of the
Apple iPhone 5C
('C' for color), previously referred as iPhone Lite or simply as the 'affordable' iPhone, has surfaced and rumors say it depicts an 8-megapixel camera, like the one on the iPhone 5.
The iPhone 5C was initially expected to be not only a more affordable version of the current iPhone series, but also one that is less powerful. That might not be the case and while some speculated the iPhone 5C would get only a 5-megapixel camera, this latest rumors coming straight out of Chinese IT168, pegs the
camera at 8 megapixels
and provides an image to prove this.
More and more evidence points out that the iPhone 5C's biggest difference from the current iPhone 5 will be the in the materials used and the visuals. The iPhone 5C is made out of plastic and comes with colorful back plates, while the current generation iPhone uses the more premium aluminum. The new
iPhone 5C is also expected to be slightly thicker at 8.2mm and heavier
at 130 grams. In comparison, the current iPhone 5 measures 7.6mm thick and weighs 112 grams.
Apart from that, though, the two devices might be very, very similar. We've already heard whispers about both featuring 4-inch 'Retina' displays and 8-megapixel cameras.
Overall, rumors point out that while the bill of materials (BOM) for the iPhone 5 comes in at between $210 and $320, the new iPhone 5C would have only a slightly lower BOM price of $180 to $200. Despite that relatively small price difference, Apple is expected to sell the iPhone 5C drastically cheaper. The iPhone 5C is said to retail for between $350 and $400 off contract, while the iPhone 5 prices start at $650.
All this of course means that
Apple might have decided to sacrifice its high profit margins
this time as it tries to go for volume.
source:
IT168